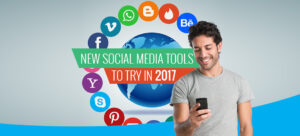 In this fascinating world of social media, almost every other day, people build and launch new social media tools, empowering digital marketers to complement their day-to-day work.
Let's take a look at the social media tools to try out in 2017 so as to stay on top of the latest and greatest:
Panda 5: It is the fifth iteration of the popular news-reading app. Panda 5 will help you speed up your content curation process by allowing you to browse multiple websites at one go, integrate them with other websites and pull in RSS feeds of your favorite content.
Zest: It is a new tab extension that helps you discover the finest marketing articles. All the articles are curated by its community of marketers and manually approved. All you have to do is simply add the chrome extension and whenever you open a new tab, Zest will serve you the latest curated marketing articles. You may customize your feed by selecting the tags that are most relevant to you and your brand. Currently, there are 29 different tags that you can choose from such as Social, Content, SEO, Metrics, and Email, etc.
Yotpo: It helps in collecting the best user-generated content and making full use of them for your business. Their latest feature, curation helps in collecting and using user-generated Instagram photos (with proper permissions).
Adobe Spark: This tool helps in creating and editing beautiful graphics, web stories, and animated videos in minutes. It has in-built templates to avoid those starting from scratch worries. For example, if you are creating a video, you may choose from the following templates:

Promote an idea
Tell what happened
A hero's journey
Show and tell
Personal growth
Teach a lesson
An invitation

Gifs: This tool allows you to take any video (Facebook, Twitter, Instagram, YouTube, etc.) or live video (Facebook Live, YouTube Live, Periscope, Twitch, etc.) and turn it into a GIF using its web application. The browser editor gives you the options of cropping the video/GIF, adding a caption, applying stickers and effects. For a more detailed GIF, you can even do frame-by-frame edits. It also has a one-click meme feature which can turn a video or a gif into your favorite meme in seconds.
Canva: A visual content creation tool with a wide array of image-editing capabilities and a comprehensive library of pre-sized and pre-designed templates. The tool provides an easy to use drag-and-drop interface, making it convenient for non-designers as well as professionals to create visually-appealing image graphics for blogs as well as social media posts.
CalendarX: A calendar tool from where you can push important events to your follower's personal calendars, once they follow your calendar. This comes very handily for live events such as Facebook Live and Twitter chats. Furthermore, it allows you to collect information from your followers when they subscribe to your calendar, just like a mailing list signup form.
Yala: It is a slack bot that uses the machine learning to determine the best time to post to Twitter and Facebook.
PostReach: This tool automates your content reporting. It gives information about your key traffic stats, the number of shares and the influencers who shared your content. It helps you with your social media and content marketing reports.
Reveal: It is a slack bot that gives you your Facebook and Instagram metrics and allows you to manage your ad campaigns from within Slack. It also alerts you on significant changes to your ads such as Click-Through-Rate (CTR) or Cost-Per-Click (CPC) so that you can take the action accordingly.
Engage by Twitter: It is a standalone app by Twitter used to manage your Twitter profiles. It connects you with your influencers by highlighting important mentions and provides you with in-depth data about your profile and tweets.
Intelligence: This tool helps you discover and collaborate with the right influencers for your brand. It focuses on key peer level influencers instead of the big names, thus making it stand out from other influencer platforms. This unique feature of the tool makes influencer marketing more viable for small-medium businesses.
Waffle: A tool for making the most of your social media content. With it, you can aggregate and monitor your social media posts from Instagram and Twitter, analyze them and publish them.
Are there any new social media tools that you plan to use this year? Do share them with us!