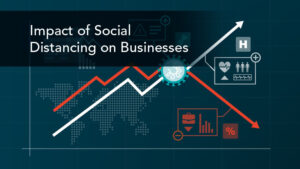 Social distancing is important and everybody is following it. If you are a business owner, there might be millions of rumors you have been coming across saying businesses are losing customers, there could be a lag in overall performance or even businesses need to shut down their operations until the outbreak is over.
We at SocialChamps don't believe so. We mean, we believe in the severity of the coronavirus outbreak but we want to give brands a ray of hope that they don't need to shut their operations or they don't deserve to lose any more marketing opportunities in this turbulent economic fluctuation due to COVID-19.
Our digital marketing team of experts at SocialChamps has derived some of the things businesses might be facing during the outbreak and how they can stop losing revenue both during and after the outbreak. 
What is covered in this article?
Impact of coronavirus outbreak on businesses.

Precautions brands need to take to avoid losing business.

Which industries are most affected in the events?

Is it a good idea for businesses to get online right now?

Which brands can leverage situations to help their customers?
We hope everybody is taking the safety precautions suggested by the World Health Organization (WHO) and staying at their homes or residential facilities until the local governance rolls out the next steps. 
As there is a widespread self-isolation, many government authorities across the globe are planning and taking measures to protect the interests of the workers from being affected with any economic impact that may arrive.
This is a period where most of the marketing events usually happen and businesses take part in these trade shows to showcase their products, services, and demonstrations. Businesses have lost billions of dollars wanting to promote their businesses in this period and results are just devastating. Well, trade shows keep happening throughout the year, this is an alarming period. Our experts have a solution to this impact on trade shows, want to know it? Keep reading.
Other than the global impact, brands are also suggesting their internal teams at their workplaces not to travel unnecessarily and allotting them facilities like work from home so that they can protect the social and personal health of employees as well as for society. 
Which businesses are most impacted during the coronavirus impacted?
Travel & Tourism

Medical Tourism

Hospitality

Manufacturing, & EXIM

Transport & Logistics

Supply Chains

Trade Shows & Events
And many more.
These businesses are hit hard by the outbreak and cases across the world and businesses are taking precautions for the same.
How the Coronavirus Outbreak has impacted these businesses?
Some of the main reasons behind the businesses getting hurt are:
People are avoiding travel or authorities have suggested grounding the aircrafts.

Social gatherings are getting banned and unlawful assemblies are restricted in a few parts of the world.

Production and manufacturing in China are affected due to labor shortage.

Some businesses need to stop their manufacturing as either there is no demand due to an outbreak or they have to shut their operations because they are not getting raw materials in time.

Social media is filled with news and rumors creating panic which is spreading faster than pandemics.
These businesses have understood the impact of the situation on their operations and are taking necessary steps to shut down for the time being. We certainly know this is just a temporary situation and we will keep helping these businesses to promote their brands until things don't get normal.
Well, this is so unavoidable and everybody in such events is getting panicked and worried. But such is not a case for some businesses who just want to reach out to mass with seating idle at homes and SocialChamps has plans for them to create their own virtual world and reach their customers' doorsteps. (Without any impact of the notorious virus.)
Is it a good idea for brands to get online right now?
Mass of people are moving online to get their requirements fulfilled way before the outbreak was rolled, and now could be the right time for businesses to move their entire operations online as more and more people are resting at homes and want products & services at doorsteps.
Which are such industries whom we think 'Getting online' or 'Online Promotion' is inevitable?
Well, we are sure some of the businesses really need to reach out to the mass public and help them in one or many ways.
Tweaks in Business Models
Some of our clients have done smart and quick temporary tweaks in the business models. A California based Indian Dance Studio has started experimenting with taking their Dance courses online with basic solutions like Zoom Meetings.
A Management Education Institute has quickly started Online Classes with video streaming for students when they are at home due to the Coronavirus outbreak. 
Well, if taken it positively Corona has given us a strong reason to re-think the business with a new perspective.
Which businesses can leverage the current situations and make some money along with offering help to the public?
Healthcare

– Healthcare practitioners are ready to consult patients with other symptoms virtually, our digital marketing solutions can help them reach out with the online mediums.

Pharmaceuticals – Pharmaceutical manufacturers and retailers can go online by setting up eStores and provide their offerings with home deliveries.

Local Kitchens

– Although many restaurants and bars are shut down, local kitchens serving homely food can get online with digital marketing solutions and provide clean and safe food to the quarantines and general public.

Entertainment and media

– Movies, series, and plays are being enjoyed at homes. Production houses and media creators have a great chance to take advantage of the situation to reach out to their viewers. We offer great digital marketing services for media & entertainment businesses.

eCommerce

– People love shopping online and now that they are stuck at homes, they need their essentials delivered right at the homes and this is the best chance to create your own image if you are an eCommerce business owner.

Gaming Companies – Everyone in every age group loves to play games and if Gaming companies have unfinished projects in their hands, now is the right time to boost your production and spread in the mass.

Digital marketing agencies – In many parts of the world, digital marketing agencies are losing clients as these agencies are shutting their operations and clients don't want to stop their campaigns. We are ready to take over your projects, you can simply outsource your work to us and be relaxed.

Every other business – Many businesses had already booked their spots in the trade shows and if they have been canceled, we will promote your business through our digital solutions like video conferencing, and much more.
This is the right time to think about your employee protection, operational continuity, and market preservation, businesses need to have a fresh look at their operations even though the times are tough. Businesses that focus on strategic, financial and operational resilience will emerge from global risks and will be better positioned to respond if any other outbreak persists in the future.
We know the situations are already out of control but this is not the time businesses should lose their operations and seat idle. 
Contact our expert digital marketing team to discuss how you can still boost your business online and gain more customers in this dangerous outbreak.