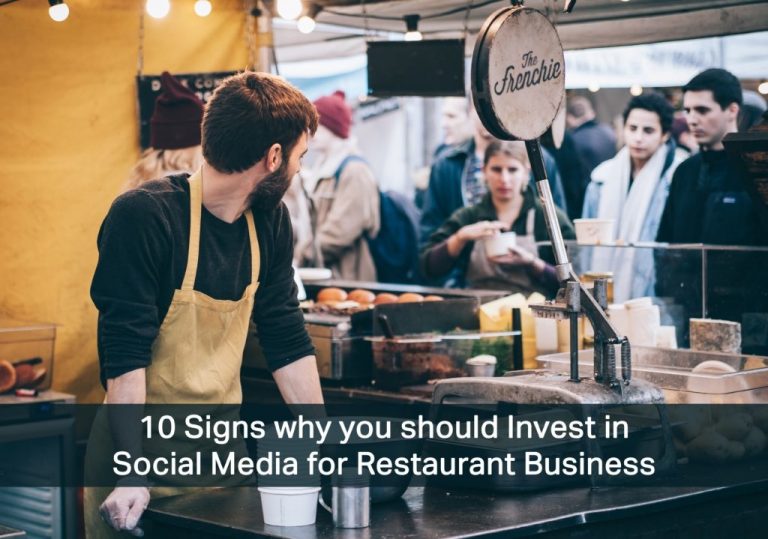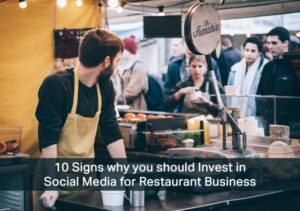 A lot goes into opening a restaurant. Right from décor, great service, delicious menu to the helpful staff, but gone are the days when just advertising in the local newspapers and handing out leaflets was enough to make you a local brand in the restaurant industry.  Nowadays digital publicity plays a big role in promoting and sustaining your business and building it into a brand.  A lot of well-known restaurants operating for more than a decade have had to shut shop, just because they didn't adapt to new marketing ways that are quietly revolutionizing the industry. One of the major revolutions is the advent of social media.
Here are 10 signs your restaurant should invest in Social Media.
You wonder if social media is worth the effort
This is one of the prime reasons why restaurants are getting it wrong. Being where your customer is will never be a waste of time. You might have listed yourself on major food delivery sites but if your customer is happy with what he is eating, chances are he will be posting it on his personal Facebook and Instagram. Having a Facebook and Instagram presence will help you respond to the customer on time. A happy customer will find your response special and will help build brand loyalty.
Not realizing that Social Media is an extension of Customer feedback and reviews
Today customer feedback is not limited to your feedback form or immediate reaction to the food. It extends and encompasses the whole World Wide Web! Look at these scenarios – A customer visiting your restaurant is happy with the place and food – he posts it on Fb and Insta. Maybe he is having a party, and tag's the location and adds reviews on Google. He is a Food blogger and enjoys the meal and writes a review on his blog or FB group. You not being present to acknowledge these means losing a golden opportunity in customer satisfaction, now think if it goes the other way round. Not being there to resolve a query, a problem or not reaching out to a disgruntled customer means losing a customer and reputation for life.
People don't know you exist
You might have great food, but people need to know where you are. Nowadays people travel to different parts of town for work or other commitments, they might not know restaurants beyond the ones on the main road, how do you connect with these audiences? Being on a food delivery platform is not enough as new customers are bound to see reviews first and then order the food. Having a social media presence, advertising online, etc. will help you get the word out.
Your Special's are not known
Many restaurants have a daily special's menu or a few specialty restaurants create new menu's every season, so how do you communicate it to the existing or new customers? Social Media is a great way to connect with your past and new audience at lightning speed. Put your daily specials on Twitter or Instagram. Have a Facebook Live of season's special menu and spread. These are great ways to bring about a vibrant, community feeling around your restaurant.
Daily Offers/ Instant Specials
You might have great deals but if you think your customer will remember about it based on a leaflet that you sent a month ago, you are wrong. Giving time-sensitive is possible because of social media. Run new deals and discounts every day on Facebook and Twitter advertising. Google AdWords allows you to run deals limited to the local area, make use of it and be on the top of your customer's mind.
      6. Focusing on customer groups is tough
Today, restaurant visits are not limited to family dinners. There are many kinds of audiences that you can target. Food bloggers, foodie photographers, parties like kitty-party, birthday, team lunches, late workers, singles, etc. You can't target each one with blanket advertising. Creating different messages for each set of an audience as possible with social media. This will help you reach a more relevant audience with fewer budgets.
You can't afford TV advertising
Television advertising has always been popular, however, not everyone can invest in it. But with Instagram and Facebook, you can afford to put up videos for different target audiences and at much lesser costs. Social media will help you use rich media tools to communicate your brand story or your product offering in an appealing way.
You don't know what a business or restaurant blog is
Having a restaurant blog helps in communicating the latest happenings, seasons special to your loyal customer base. Offering them quick recipes, short videos of the fresh produce that you procure, customer testimonials, behind the scenes and much more is what your restaurant blog can communicate. This will help build a personality for your brand. It will also give your website the necessary SEO juice, making it more relevant to search engines.
Your competitor is having no trouble filling the tables
While you wonder why your competitor is easily filling tables. One of the biggest reasons for it could be the social media strategy that they are following. Appealing to your niche with various offerings, setting up tasting sessions and great chatter about the restaurant offerings online go a long way in building the brand reputation. You might have seen people traveling to the other end of the city, just to eat at a particular restaurant. This has more to do with social media appeal and reviews than anything else.
You are having trouble with Customer and Employee Acquisition
Customers and Employees will check you online before making physical contact. Bad reviews that are not responded or disgruntled employee venting online is doing you immense damage and if you are not online, you are not diffusing the situation thereby losing on good employees and customers.
To ensure that your brand or organization to scales the same heights on social media, we suggest that you opt for the multitude of Digital and social media management services offered by SocialChamps, a dependable organization offering exceptional quality digital marketing services all over the globe.