Tips for Small Businesses: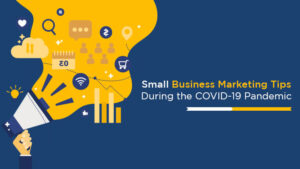 A few days back we were not known that this novel Coronavirus spread all over the globe this fast and make considerable destruction of lives. But now that we are quite aware of the fact we are taking care of almost everything the WHO has been told us to. 
One of which is maintaining the Social Distancing. In other words, it means to stay away from people so that to avoid contact from other human beings which will stop this chain of pandemic disease, for which we are not found the proper medicines yet. 
This is the time when we not only have to take care of the healths but the businesses as well. 
So here are the ways you can help your business to sustain through the novel pandemic of COVID-19.
Find options for Remotely Working
We normally call it Work From Home. If possible in any condition, giving employees the WFH option is the most logical and safest way to keep your business running and also, to take care of your employees, as their safety is your responsibility. 
And the digitalization has made this thing easier to work distantly. The mutual timing of coming online and working on dependable tasks will solve the problem in these extreme conditions. 
Well, this work from home thing could get stressful sometimes, so you can arrange various activities for your employees to keep the virtual environment light and healthy.
At SocialChamps, we plan online activities for our champs over Zoom & Skype like general discussions, promoting their routines on our social media platforms, letting their talents flow out, and getting their ideas about how we can run our operations more smoothly.
Avoid meetings and Traveling
Avoiding practical meetings will help in maintaining the social distancing as per instructions to avoid the transmission of the COVID-19 among. But online meetings are a good option for this. Digital platforms like Skype, Zoom, Viber, and many more offer to make group video calls too if the meetings are unavoidable at times. 
However, avoiding traveling is also recommended on priority in terms of being safe. Postponing the conferences and travel meetings to some other dates if possible will help you in order to be safe. 
Offer Flexibility to Employees
Along with the schools and colleges, all the offices, businesses, stores, and commercial centers are closed. And slowly we are in total lockdown in order to stop the spread of the virus. This is the time when your employees also need to be given the possible flexibility in work, working time, productivity, and efficiency of work. 
Along with flexible working hours, you can also allow them some time to develop their routines to cope with the situations. There could be some days when the workload would be lesser than the regular days, here, you can push your employees for getting certified for different skills online. This will be beneficial for both your organization and employee. You can also prepare them to get online courses from different learning platforms like Coursera, Lynda, Teachable, LinkedIn Learning, etc.
Transparency in communication with Customers
Customers do emphasize that the brand is having problems in genuine conditions. So sharing this problem with customers will be a healthy move as long as it is communicated properly. Customers will surely understand as everyone is facing the problem with the same intensity.
Shift the business sales strategies to online.
The digitalization has made us get empowered enough that things like marketing and sales can be handled online as well. There are so many tools efficiently helping you with turning the sales strategies online if small changes are made smartly and handled skillfully. 
These are some small ways that can help you sustain globally by contributing to following the things that the government has asked to and keep your business at less risk with minimizing the losses that could happen during this lockdown period. 
Stay Home. Stay Safe.
If you are still struggling to build a remote team, we have an interesting service called 'Agency in Pocket' wherein you can hire a skilled remote team aka a mini digital agency of your own.
Get Digitalized!