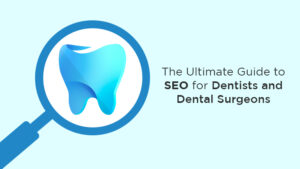 Getting new patients needs the same good long efforts as it needs to pull out the tooth ven for the skilled dentist or dental surgeon. But how it would feel if I tell you you just sit back and relax while online leads will come to you. 
Can you believe you can get patients through the social media that we all use? Even Google will help you get your patients? How would that feel to you? How would you like to think about people calling you over call and asking for appointments for dental cleaning and small things regarding dental health which is almost neglected?
This all will happen through social media and running online ad campaigns and dental health awareness campaigns through social media. And if you would ask how much this will work for some skilled dentist or for a dental surgeon who is practicing on their own?
So this doesn't matter if you are working with an association of some big or small hospital or healthcare or whether you are working in your own clinic.
So let's dive into the fact that how you can do it for real?
The first and foremost thing you should do if you are not already doing is, list your dental clinic or dental practices as a business on google maps. 
You know how you, me and people, in general, will take out their phones and start searching for almost everything. For instance, how often do we search something like, 'a flower shop near me?' or 'a medical near me?', 'a dominos near me?', ' a good pav bhaji outlet near me?' or any of this sort?
No matter what we have to do or where we have to go or meet anyone for the first time, the first reaction of ours to it or the extremely first action that we take for it is Ask it to Google. Whether it is distance or temperature outside or the timing of the next bus or for cab or no matter what it is we go to Google. 
The whole point of telling you this is people these days often search, almost everything on Google. So having your business listed on Google My Business is of utmost importance if you are looking for any online presence and practical results out of it. 
The other most important thing is followed and considered that now the dental clinic has an online presence over all the important social media platforms like Instagram and Facebook majorly. And they are running good enough with a good number of followers. 
You without fail ask your customers about leaving reviews about your service. If your clients will like your work and if they are right good about the service, the feeling of getting the work done in a satisfied manner. Then they will write good Google reviews for your clinic, for the dental surgery, about the professionality of your work then you are in good profit. 
Even in terms of SEO. When you are listed and people review your service, you will be benefited by the reviews and comments that your clients will post about you as to when next time if people search about your clinic they will get to know about your clinic in the top search research.
However, until that, if you are interested and guided well enough you can earn a good number of customers by doing the paid promotion also. 
Running campaigns about information about dental health and the importance of monthly or checkups after a certain period of time. 
Let us know if you want any digital help regarding the SEO of your dental surgeons.