New Pinterest business accounts
In the first part of this article, we explained the procedure of converting your personal account into a Pinterest business account. Click here to read the first part of this article.
Now in the current part, we will explain the procedure of opening a new business account on Pinterest. We will also discuss the new business terms of Pinterest in this article.
If you are not having an account on Pinterest, then, in that case, you need to follow this procedure to create a business account which is quite similar to the procedure shown in the previous part:
STEP 1:
Visit business.pinterest.com Click the smaller red text below it, 'New to
Pinterest? Join as a business.'



Once you click this, you will see different fields on the next screen e.g. your profile image and 'About' section — will be blank, since it's a new profile.
Once you are done, there are plenty of resources available to help you fill out and optimize your account.
The new business terms of Pinterest are clear.
1. You can open an account on behalf of a company that you are allowed to open an account on behalf of.
2. The content you post on Pinterest can be used by other Pinterest users. That means they can not only re-pin it, but they can also modify it, reproduce it, display it, distribute it, whatever, on Pinterest. If they start doing something weird with it outside of Pinterest that they're not supposed to do, you cannot blame Pinterest for that.
3. Pinterest expects that any content you post from third-party content creators and owners does not violate any laws or infringe the third party's rights.
The new feature that Pinterest has added will definitely help business houses increase the numbers of Pinterest users.
Later, if the services of the business account create buzz, Pinterest may start charging some fee for a business account. Thus, the decision to allow people to have business accounts would certainly result in financially positive results for Pinterest.
At this point in time, there are no significant differences between business accounts and normal accounts. So you may be wondering why you should need to change over.
However, even if there are no differences between the two account types at the moment, the introduction of business accounts can be seen as the first step in a progressive plan to offer businesses more marketing-based options than a normal account.
Features such as targeted ads and business analytics may likely end up becoming parts of the business account experience. They may eventually offer features to business accounts that could be totally unique to those offered by other social networks and give marketing of a business-house a defined edge.
It looks as if Pinterest is already offering resources to businesses with things such as case studies of how some of the world's most successful businesses are utilizing their presence for leads and customers, and a step-by-step guide to integrate Pinterest buttons and widgets onto the website of a business house to expand its Pinterest presence. These can be found at business.pinterest.com.
The section on Buttons and Widgets will teach you how to add 'Pin It' and 'Pinterest follows' buttons to your website, as well as the profile or board widgets.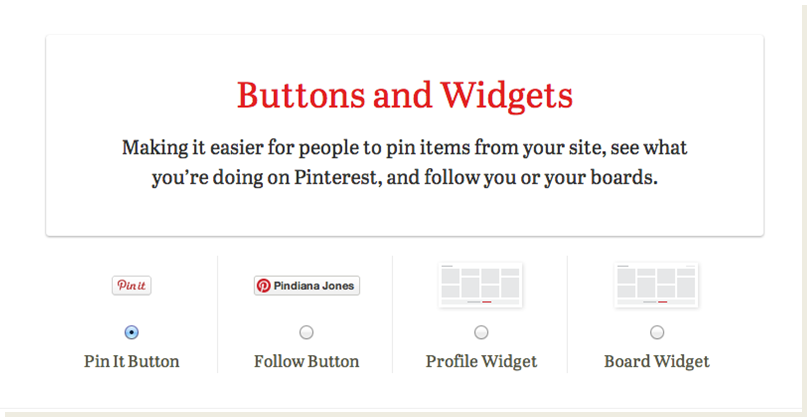 The profile and board widgets are new features. The profile widget would let a business-house embed code on its website that would show them its 30 most recent pins, while the board widget would let them embed code on its website that shows 30 of their favorite board's latest pins.
Thus, once you understand the system, you can easily use Pinterest and reap the benefits of Pinterest for your business.