Cricket highlights 
In India cricket is a religion and Sachin Tendulkar is God. For cricket lovers, there is online heaven called Crickethighlights where there are tons of cricket updates.
Cricket Highlights is an informative blog for cricket lovers. It gives information about recent/upcoming cricket matches, players' and match stats, live updates of matches and summary of past matches. Cricket Highlights is a favorite place for cricket fans to cheer-up their loved cricketers, to predict the match results and to discuss/comment on others views.
Objectives:
The objective was to increase the reach of cricket highlights using Facebook.
Solutions offered:
Cricket Highlight Facebook Page started from scratch. In a time span of 3 months likes to the pages was around 20,000 likes and its current likes are 28,019 likes.

The Facebook page of Cricket Highlights started having many quizzes about cricket. The picture posts like "Guess the Batsman" became popular. The types of post and their influence on Facebook can be seen below.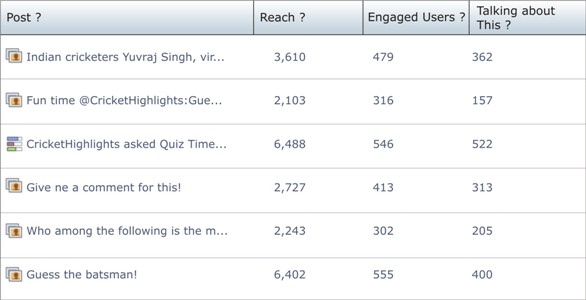 We started with some Quiz and contest so as to attract more users. We started with Live Cricket Score Updates which proved very useful. Winners of the respective contest or quiz were rewarded with T-shirt and some nice cricket goodies and tickets of the IPL matches.
The campaign proved to be successful and today Cricket Highlights is a hot favorite with the cricket lovers on Facebook.
Statistics can show how we have proved to be beneficial for them and gave good results in just a time period of 3 months.
Conclusion:
The Crickethighlight.com site has ample amount of traffic today it's just because of the Strategies we used on Cricket Highlight Facebook Page to promote their site and the You can see the result today. If you want to promote something on social media, contact us. We guarantee positive results.