A few years back being an influencer wasn't considered as a career option but now more of the younger generation even in India are choosing it as a career. That demands, only enough smartness to make money out of anything and everything, you choose it as a business.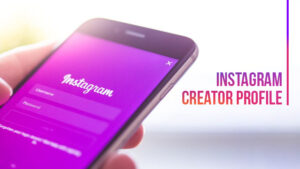 Who can switch to Instagram Creator Profile?
Switching to the Creators Account of Instagram is allowed to everyone who is an actor, artist, or influencer. Of course, there is going to be some condition like may be the number of followers should be so and so. But if you are an artist, you are welcomed. It is the same as the Instagram business profile you can choose, just with some extra features provided understanding the needs of the Instagram Influencers. 
Why Instagram Creator Profile is made?
Being influencers, it is so hard to handle the floods of DMs and to keep track of all the stats of followers. There are a lot of things to take care of as its responsibility for being an influencer. 
So to make your job easy, this Instagram creator profile is made. So that you won't need any third party app/tool for keeping your stat records, you won't miss any important message or brand deal. And also, You will be having flexible profile control in your hand. 
Let's check out some of the features of Creators Profile below in this article. 
New features of Instagram Creators Profile:
Considering the new metrics the Instagram Creator Profile has following parameters changed:
More Growth Tools:
The Instagram Influencers are only concerned about the reach of their content and if the content is engaging or what. Acknowledging these factors as top priorities, the new analytics has been made which shows the detailed insights of the profile. 
The analytical data includes daily and weekly insights, information regarding when Instagram followers are online or offline work across posts, Stories, and IGTV. This altogether helps to get outcomes with the most concerned factors. 
2.  My messages, My control:
There is going to be the flood situation every morning in the message inbox of yours if you are an influencer. So you to not to miss any important message of collaboration or brand deals, or any message of your friend or an important person, the new Instagram creator profile helps you sorting those messages according to your priorities. 
Also, it leaves no place for fake brand deals. Only genuine collaborations and brand deals will be entertained by influencers.
3. I will have control of My Profile:
This is the feature made by Instagram which makes the Instagram influencers safe. With the help of this feature of the Instagram creator profile, the influencers will get to know about the spam messages that they are getting, if any. 
Also, they can track from where the user is getting to contact the influencer. It gives more control to the influencer, to spam out the messages.
4. Shop from the posts:
With the all privileged Instagram Creator Profile, the branding and ads are taken well taken care of. The Instagram Influencers can upload shoppable post of particular brands that they are collaborating with. And the followers can click to the post and directly purchase from Instagram Creators' accounts easily.
Benefits of Creators Profile summed up:
Since the Instagram Creator account is very much different. It is useful and beneficial for both the brands that influencers are collaborating with and for the Instagram, influencers individually.
Analytics stats in expected metrics.
Priority and control over DMs.
Shoppable posts on account.
It can display category and contact information.
Track over people getting your contact.
Desktop access to handle Instagram creators studio.
The rumor says that the feature of creators account will be provided to the profiles if you have a specific number of followers. The same as a feature of swipe up is accessible to profiles who have Instagram followers more than 10k.
Switching to the Instagram creator account is easy but this is a beta version. With all the perks we saw it has some drawbacks too. The third-party apps won't be allowed to use in the creators' account. So only time and users of this profile will better tell the pros and cons of the change.