Statistics speak louder than tips and tricks when we are talking about Digital Marketing in this era. Statistics reflect efforts and results this marketing technique is providing to every edge of business.
For beginners, the healthcare industry is facing new challenges every year which includes patient confidentiality, their privacy, patient acquisition, digital advertising strategies, and much much more.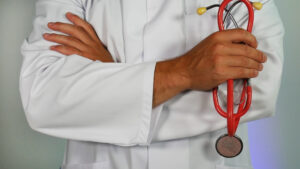 Here are some statistics related to some megatrends in the digital marketing strategy for hospitals and the healthcare sector:
More than 5% of Google Searches are related to healthcare

Search is driving 300% more visitors to hospitals and clinics than non-search

More than 60% of patients are searching for healthcare service before booking an appointment

In the USA alone, marketers spent $2.84 billion on digital ads in 2018, which was 13% more than what it was in 2017

More than 90% of appointments are scheduled over the phone

More than 2.4% of healthcare appointments are scheduled over the internet
So, all these statistics are in favor of online marketing over any other method of marketing in this digital era.
So what these statistics suggest you, if you have a healthcare related business?
Digital marketing or internet marketing is just irresistible for you.
Why?
Keep reading.
Indeed, the healthcare industry has an unprecedented opportunity to make use of digital marketing to drive more market, create transparent performance and engage more patients.
But how?
Here it is:
Digital marketing helps you understand your customers
Patients are increasingly searching for information via digital media for their healthcare needs. So if your healthcare business wants more customers via digital media. Where can you find them and how?
They are going to search you on search engines like Google, Yahoo, and Bing, so search engine optimization is a must for you. By social media enhancing, you can reach them at their favorite apps like Facebook, Instagram, Twitter, and LinkedIn.
Choose a modern digital marketer that will employ all these techniques including others to optimize your business online.
Implementing every digital strategy for your business will help you rank higher in the search results, and therefore providing you more visibility for your internet users.
Other than search engine optimization and search marketing, people trust and believe in social media. 92% of them have mentioned that they have trusted social media and recommendations from family and friends rather than other types of marketing or advertising strategies brands are using today!
It's also important to note that most of these people are accessing social media and searches on their smartphones. Hence, it will be wiser for you to develop your website, and optimize your social media experience accordingly.
Right patient, right message, right time
Creating a personalized and relevant message helps generate closer relations with your patients and hence you need the right data with you for this.
The whole efforts behind this are to reach the right patient with the right message at the right time, And by the right time, we mean your patients' convenience. 
How can your marketing department find this information to create a crafted message for your patients?
With various centralized data hubs, you can get specific demographic, socio-behavioral data which you can further use to their communication preferences which can create a great impact on your marketing efforts.
See, you have to be very flexible while choosing the platforms for your personalized messages. Some of your prospects are using websites to access this information, some are aggregator platforms, some prefer social media and some use mobile apps. Hence, you need to analyze the data with you and then tailor the messages you need to spread.
The end result will be so beautiful; you will see enriching your business within your expected timeline. Get high-quality leads with these two simple methods and you are then good to go.
The healthcare industry might be lagging when it comes to digital marketing strategies but this does not mean that there are no opportunities for the marketers to use digital to get more patients.
By using effective digital marketing for developing an understanding of the consumers and patients; you can expand your reach across the search engines, social media platforms, and mobile devices. The main aim is to leverage the wealth of consumer data across different channels and target the right audience according to it.
How is your healthcare business leveraging digital marketing strategies?
Want to discuss more on the same?
Get in touch with our specialized marketing experts and they will discuss it more practically.