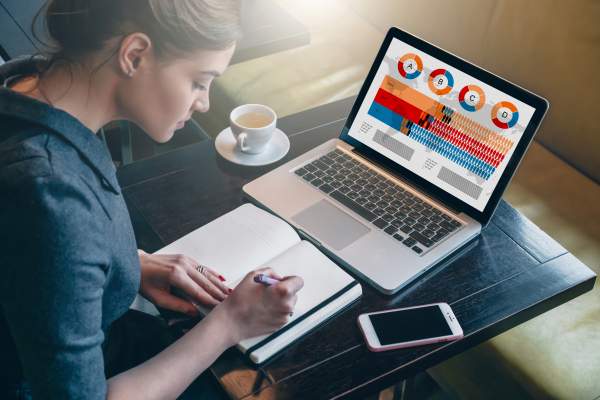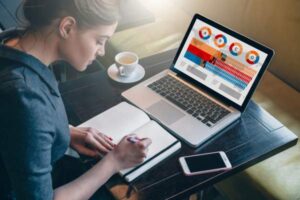 85% or more students are using the internet as their basic book of information to complete their studies, projects and to find the right coach or mentor.
Generation Z is spending almost more than 8 hours of their time on the internet. And don't underestimate them. This usage is not only for entertainment purposes but to collect information, data, and gather skills.
If this is the situation, your educational business should leverage the power of technology and implement the right tactics that will spread a word about your brand and get more students to have a pool of knowledge.
Suppose a student is exploring an XYZ website to collect his study material on JAVA. At the same time, your not-so-known institute is displaying him an advertisement for JAVA online coaching from expert mentors. He tends to click that Advertisement and you may get a call from him. Similarly, other digital marketing channels can help your business.
But, how digital marketing has proven itself as a powerful tool for the education industry?
The education sector is going through a lot of advancements and transformations in accordance with the usage of technology and media. The sector is experiencing the transformation in the consumption of marketing and thus many brands are active with the education industry to get more students from where they are located, 'Online'.
Digital ripple has been increasing over the passing time and spreading its presence in every device possible. Right from PCs, Laptops, Mobile Devices, Smart Devices like Wearables and Voice Assisted Speakers. 
The education sector is not an exception to be impacted by this ripple.
To get the benefits from this ripple, educational institutes or businesses need to work hard on their online presence, brand building and start investing in a great digital marketing strategy to see themselves on the devices present with the thousands of students and parents easily.
The future is now and it's the right time we conserve the education sector that adopts the emerging trends and technologies to get the best out of marketing.
Here are some notable reasons why you need to utilize digital marketing tactics for your educational business.
Cost-Effective
We have been hearing it and it's true. Online ways of marketing offer you a very cost-effective way to get more business. With the help of educational marketing company like SocialChamps, your online education business can achieve great results by investing a small amount for a longer run. SocialChamps Media Pvt. Ltd. is an online marketing agency that is located in Pune, India.
The online world consists of online marketing platforms like search engines, social media platforms and regular websites people use to explore what they need. As the education business also not an exception to the growing searches, educational businesses need to get the advantage of search engine optimization, social media marketing, email marketing, and mobile marketing.
Intensify the brand awareness
Digital marketing creates and enhances your brand awareness through platforms like social media prominently, Facebook, Instagram, Twitter, and LinkedIn, etc. These platform homes a bigger section of your target audience.
Brand awareness will increase your subscriber count and increase the interaction happening between you as a brand and your audience. SocialChamps mentions the social media handles of their client LearnPick India, IIEBM, OnlineTyari, and Nilaya as the best examples of brand awareness through brand management.
Helps to track performance
You can track the performance that too campaign-wise with social media tools available under the umbrella of digital marketing. This tracking will help you to measure the effectiveness of your campaigns online. This also helps you tweak the digital marketing strategy or campaign you have designed for a limited period of time. Digital tracking will help you redirect the focus to the marketing mix which can be optimized according to the needs of targets you have set.
Better conversion rate
Online marketing efforts for educational businesses will receive more conversion rates. Traditional and old-school methods like SMS and Email are some other ways of digital marketing that have a high response rate as they are very personal and accurately targeted.
With SMS and Email marketing, your business reaches directly into the place where your users find themselves busy in.
Online presence
Creating a presence on the internet is non-negotiable for any brand and educational brand needs a strong online presence. With most people are found online, a strong digital presence will help your audience find you easily if your brand is 'buzzing' in the online jungle.
Digital marketing will definitely create a strong brand presence online if a specific time is allowed and the proper team is allocated for these tasks. 
With SocialChamps growing their business in the USA as well, their team could help your educational business get more business with their team of 70 highly expert digital wizards.