Google set to start charging for Google My Business Premium. Here are some things you need to check out if you are actively using Google My Business.
Recently, Google sent some Google My Business a review that seriously hinted about them charging for their well-known and useful service feature i.e. Google My Business. 
Currently, some of the elements of the service are free, but in the near future, they are going to charge for them and hence, us as a leading online marketing agency decided to provide a detailed review of these changes. 
What's Google My Business or GMB?
Google My Business is a tool with which, small or large businesses can take ownership of and display the key information displayed on Google Search Results about their business.
Now, here is a Google My Business result of SocialChamps: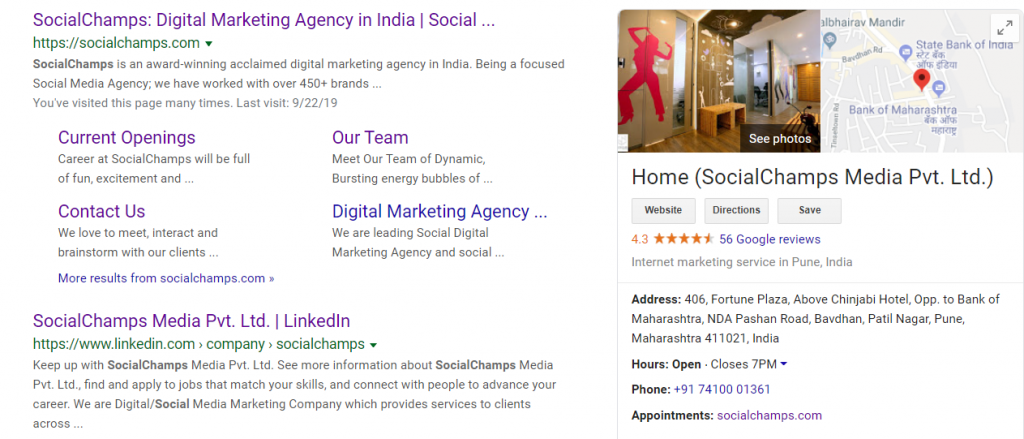 The red box highlights the core elements of our business which are powered by our Google My Business Listing.
At the time of setting up, claiming and editing, Google My Business is completely free.
Yes, starting with Google My Business is absolutely free. They have even mentioned in their Get Started kind of page. Here it is…
Are they changing some rules?
Google prides itself as the supplier of "the most relevant, helpful results… in a manner that helps you discover what you are trying to find."
Businesses can update things like their contact number, opening hours, location, website address and more – right in the search results – was good for Google, good for Users and good for businesses too. 
It all seemed to be in the sweet spot for all.
Now, it seems, Google is setting up to change the picture.
Perhaps unhappy with quarterly profits surpassing US$9BN now it appears they're looking to take advantage of Google My Business and Google Maps too.
This isn't new. Promoted pins and big brand logos on maps are around for a while.
The question started when we received the survey to fill from Google and here it looked like…
By the time you read this, the survey must be closed.
But, we are having some details for you.
The survey started straightforward by asking us to promote and market our business through this feature. 
But quickly in the next half, it got clear whom they want to hear from and why.
The second question asked was: "Are you responsible for making advertising decisions (e.g. where to advertise, how much to spend) for the business?"
The "No, someone else decides" answer saw our participation in the survey finished with a cheery "thanks" message.
The next few queries asked were about how recently we have paid to advertise our business (from "within the last month" to "More than 1 year ago" or "Never"),
Answering "never" doesn't exclude you from the survey, interestingly.
Then they want to know if you do this yourself or use an agency.
The next question was another 'excluder' though:
If we had answered "None of the above", we would have been out.
Other questions about our ad spending, they also asked about other platforms if we are using like Facebook Ads, Bing Ads etc.
Here are some new GMB features listed by Google itself:
Here is an interesting part and they showcased some of the new features of the All-New Google My Business:
1. Ad removal from your business profile:
This means, now ads from other businesses won't appear on your business profile. Well, thank you, Google. From now on, if someone searches our business name, there may not be any big ads for our competitors on our business listing.
2. "Book" button on your business profile
You will be awarded an additional button on your business profile titled 'Book'. Google shows customers your availability (synced with your calendar system if you've got one). Customers will either ensure a booking or request a time slot.
You can even promote your Book button, but we are still not clear on this feature yet.
3. Offers
Promote a special offer or discount on your Business Profile.
Or… by different names, Google Posts? Those things Google pushed businesses to do; still, do.
This is another 'add on after the effect'. It may be attention-grabbing too, given a number of companies, particularly in poorer countries, are using 'Google websites' (again, heavily pushed by Google as a 'free' service) a large part of which is populated by that business' Google Posts.
4. Call reports and recordings
Now you'll be able to get reports and recordings for all of your calls from Google My Business. This enables you to measure quality and volume.
Given lots of businesses already do this through call tracking and call monitoring companies – this sounds like another attempted land-grab by Google, attempting to monetize areas of business may be, as they see it, making money via their business.
5. Provide instant quotes to your customers
Respond to client quote requests with an automatic quote. You'll be able to customize the quote supported the details of the work. Save your attention to more serious customers.
6. Featured reviews
With a paid update, you can now select a review to show at the top of your Business Profile.
But… why would you want to do this?
Suppose you had some crappy reviews that you wished to divert attention from or maybe your listing is riddled with spam that Google knows full well about, but does very little to prevent or remove – even when they're notified about it.
Automated replies to messages
Answer some commonly asked queries (hours, services offered) so Google will respond automatically to customers on your behalf. This saves you time.
Automated response to reviews
Create messages, therefore Google will automatically respond on your behalf to customers who leave a review.
Verified licenses
Google verifies your trade licenses and displays your verified licenses on your Business Profile.
Google search result placement
Show up in a section close to the highest in the list on the Google.com search results.
Customer support from Google
Google's customer support team helps you troubleshoot and find the most from your ads and Business Profile.
Videos on your business profile
According to the new update, businesses can now show a video of their choice on their business profiles.
Google Guarantee
Now your business can get a trust badge for your business profile. According to a rumour, if a customer is not satisfied with the service, Google is going to give them their money back.
What about the subscription fees for all these services?
The subscription for Google My Business Premium features start from $20 to $75.
Our suggestion
If you're not already doing it: add UTM tracking to your Google My Business links. All of them. The posts, the website button, an appointment link (if you have got one).
You really need to know how the business and traffic those links are driving. That means – if Google does decide to start creating these paid for options, you can at least create an informed decision about if you want to pay, and if it's worth it for your business.
What do you think? Have you taken the survey? Would you pay for these features?