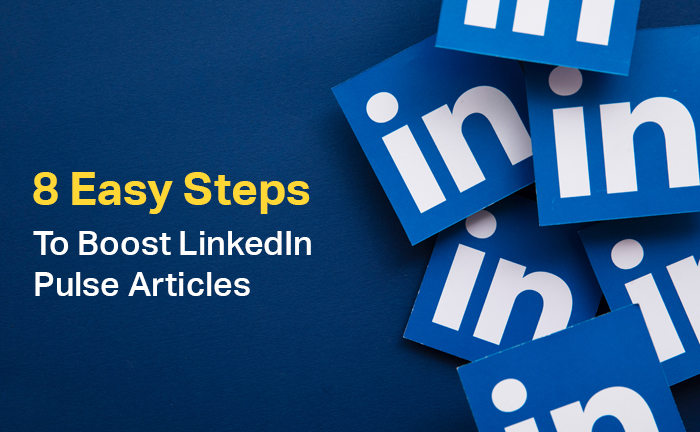 In the world of video and image content, it's sometimes hard for articles to be noticed, but Linkedin Pulse seems to be the contrary. People scrolling through Linkedin pulse regularly look out for LinkedIn articles and are eager to interact on posts with positive energy. 
LinkedIn is where business meets Social Media and it is a place where businesses can reach out to new leads and professionals on the go. Linkedin also has its personalized news feed that is called Linkedin Pulse, which is a standalone app. 
Linkedin gives more importance to articles now
While earlier, Linkedin gave more importance to video and image content, social media is now promoting articles on its network. This is because users of LinkedIn Pulse have a hunger for articles and are eager to read what is being regularly posted. 
Get more reach for your Linkedin articles
For many first-timers or irregular posters on LinkedIn, it takes some time to get the article right to gather more reach and interest. Let's take a look at what you can do to give your LinkedIn articles more reach and views.
If you follow these simple steps you can get more likes, shares, and comments for your LinkedIn articles.  
1. Short titles work best 
Keep your headlines short as long headlines may get truncated by Linkedin. Use buzz words in your headlines and keywords that gather interest from users of LinkedIn. 
2. Pick an eye-catching image 
It's no secret that images get more attention on social media. Think of an image as an element that gets people to click on your article.
3. Make relationships not connections 
People often think that it's enough to just make a LinkedIn connection and leave things at that. In fact, it's more important to create a relationship with your connection by sending connection requests, thank you for connecting canned responses, and more. 
4. Publish as frequently as possible 
LinkedIn Pulse has a separate algorithm to promote posts on its page. By publishing frequently you have a better chance of your articles getting promoted and noticed. Experts say, the best frequency to publish is at least twice a week. 
5. Get hosted on a channel 
LinkedIn Pulse has many channels that promote certain topics on the platform. These channels can be leadership and management, innovation, technology, start-ups, and more. If you can get your articles published on one of these channels you will be sure to gather more attention for your article.
6. Tweet to Linkedin Pulse 
You read that right. If you want your article to be featured on LinkedIn Pulse you need to tweet to the editor by tweeting to the account @LinkedIn Pulse. Your article will be reviewed by sending a friendly tweet, and you will be notified if it gets featured. 
7. Pay to boost your post 
As soon as your article has been published you need to promote it so that it generates more traffic. You can do this by paying to boost your posts on social media such as Facebook and Twitter alongside LinkedIn to get more traffic.
8. Repost content 
LinkedIn does not have any syndicate that prevents the reposting of content on its social media network. There are no reposting filters for LinkedIn. If a post you published did not get the engagement you wanted the first time you posted, you can wait a few months and post again when the time is right.
Enjoyed this read? We have more. Scroll through our website for more information on intent marketing, Social media promotion, how to engage with customers, scale up your business, and more.