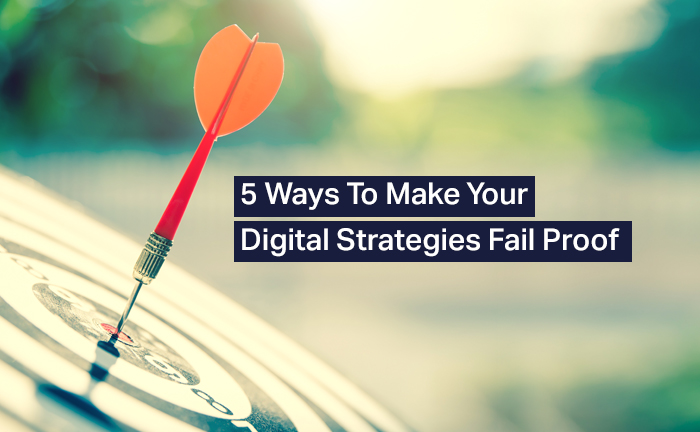 It's better to do something right the first time, than repeat what you've done again and again to get better results only later. 
Sometimes you've done everything relevant to get your digital strategy off the ground. You've created the content, automated the campaign, use your best lead set, and yet, it doesn't seem to get you the results that you are after.
Something has gone wrong and you may have to spend hours backtracking your campaign to find out what the issue is.
In this article, you will read about the reasons why digital strategies fail. Here are the five things you should start with to make failproof digital strategies for your brand –
1. Define what is your marketing goal
A north star for your digital marketing will give you a defined goal you can call success. A company should be able to recognize success before it takes measures to go after it. A digital strategy should follow only after a business has defined its KPIs and goals.
2. Strategy Alignment
Your Business Strategy, Marketing Strategy & Sales Strategy should be aligned to get better results. Firstly, your business strategy should point out what results in you wish to gain from your marketing strategy. Your marketing strategy should not be in isolation i.e it should be in tandem with your sales strategy so that leads can be managed and navigated from the marketing strategy through to the sales cycle without wastage of time and resources.
3. Businesses should have a digital mindset in totality
Businesses that wish to use digital strategy should make their entire brand accessible on the digital medium. This includes SEO optimizing their websites, creating landing pages, having a social media presence, creating sales funnels or influencer marketing.
4. Marketing Detox
As your marketing and sales strategy evolves, other parts of your tactics get unaligned with your goal. This is when a marketing detox is needed so that your tactics align with your marketing targets. Performing a marketing detox requires that you review your marketing tactics and replace strategies that are not working with ones that do.
5. Remember it's Marketing First and Then Digital –
Loads of SMEs and Startups get overwhelmed with the tactical play of Digital and are not able to create the needed consumer connection due to poor marketing fundamentals.
Here are some more common mistakes that may be draining your campaign from acquiring better leads, nurturing your lead set, or converting sales. 
• You're not accepting the change
Digital marketing is a fast-evolving domain. Whether it's the tools used to collect data or the features of social media platforms, change happens rapidly. The changing landscape of digital means you need to upgrade your skills from one day to the next. 
• You're not optimizing for smartphones
In India, 77% of internet consumption happens on mobile devices. On average a person checks their phone every three minutes. People use their phones to reply to emails, visit websites, do research, or shop for products. If your marketing campaign is not optimized for smartphone users, you're missing out on a huge chunk of your audience.
• You're not willing to diversify
Once you have your budget in hand, don't put all your eggs in one basket. Don't market on just social media and not pay any attention to google search ads or vice versa. When you're allocating your budget make sure that you've bought ad space in all the mediums so that your campaign is omnipresent online. 
• You're in a hurry to nurture leads
If you're running an email campaign, be sure to ensure that every bit of your customers' hindrances is accounted for. This means creating a sales pipeline that answers all their questions at each phase and ends with a clear and concise call to action. 
• You haven't digitized your business yet.
Starting a campaign without taking your business online completely will certainly result in your prospects reaching a dead end. Digitize your business by creating a website, landing pages, social media handles, and more. To think digital, you have to be digital. 
Enjoyed this read? We have more. Scroll through our website for more information on intent marketing, Social media promotion, how to engage with customers, scale up your business, and more.