In Part I, we discussed your business website, defining your positioning, knowing your audience, re-activating your existing contacts, e-mail marketing and creating content as per your expert positioning, let's take a look at remaining 5 steps to market B2B digitally.
(In case, you missed part I, click here)
Step 6: Build content around a Theme:
With newsletter already deployed, you can study the analytics of your email platform (example Mail Chimp) on what your audiences/prospects find most valuable. Once you are clear enough and know there is no blind guessing, you can start working on content planning around themes and keywords and optimize content for SEO (search engine optimization)
What you should work on now –
Define one core theme around which the content should be built.
Consider the following pointers:

Is there a lot of interest in the theme?
Will it be valuable if compiled in a newsletter/e-book?
Is it too complex to be useable across multiple platforms?

Within the theme, define a few keywords. These keywords will position your search on search engines.
Play around and test keywords in your weekly subject line, understand what topics get the strongest clicks.
What's not worth doing –
It's okay not to worry too much about SEO strategy right now. All that is required is to work on the basics. Once your content starts taking shape, you'll get a lot of ideas of sewing them together.
Step 7: Working on Unique and Valuable Content:
Content is the core of your strategy. It serves as a solution to your audience/leads problems and gives them that initial inertia to come to you. By delivering consistent quality content over a period of time, search engines will start directing more and more traffic to your valuable pieces.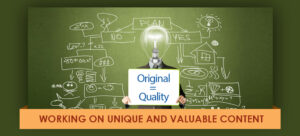 What you should work on now –
Create a blog of your business to get more visibility.
Make conversational content. Write in a manner you speak.
Be consistent in your weekly frequency of publishing content.
Talk about stories and experiences that highlight your product/services.
Work on perspectives that are different and not what everyone has read before. It's okay to work on controversial perspectives sometimes.
Build addictive content. Content may vary in length but what matters is producing consistent high-value content for your audience.
What's not worth doing –
It takes time and effort to make your presence felt. Don't give up; keep on working on building good quality content.
Step 8: Social Media:
Social media is a great medium to engage with your influencers and drive traffic once you are actively producing content.
Developing new and engaging content is important to support and add depth to your opinions and views. This active conversation around content on social media does have search engine benefits too.
What you should work on now –
Set up your social media accounts such as on Facebook, Twitter, LinkedIn, Instagram, etc.
People like interacting with people rather than any anonymous logo so ensure your social media accounts are more personal and include friendly but professional headshots.
Engage with the content of influencers and share it. This will encourage them to share your content too.
Target local influencers first. They can have a big impact on sharing your content.
What's not worth doing –
Don't be inconsistent and feeble with social media. Though it will take time to build your profile and traffic, inconsistency may work against your brand building.
Do not blabber about your own content every time. Share the content of other people, if you want others to share your content.
Step 9: Collate and repackage your content:
When content is built around a theme, it is easier to collate it and turn it into a valuable resource pack. The prospects happily sign in to get a valuable e-book in return.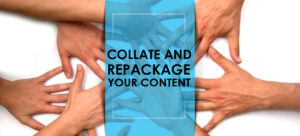 What you should work on now –
Create a simple landing page describing your e-book and the value adds it will do to the prospect after reading it.
All it requires is repackaging the existing content with a good introduction and graphics.
Make the packaged content look professional (One that can be professionally printed and gifted to the clients)
Stress upon the value-add of the resources which people will be getting but also make it clear that they can unsubscribe from it at any given time.
Once they sign-up, set up an auto-responder to welcome them to the list.
What's not worth doing –
There is no need to make the content overly pretty. People will focus more on expertise and content and not on graphic design.
Do not make your resource pack too long. Anything between 30-40 pages should be fine.
Step 10: Analyze and Optimize:
Now with all the fundamentals in place, it's time to analyze, tune and optimize the process to accelerate the results.
Three basic metrics to focus on, keeping your targets in mind:
Email subscribers
Monthly page views
Website conversion rate
These three metrics will ensure that your resources are a true client magnet which will attract, capture and convert.
As per Pareto rule, 80% of the online business is done by 20% of online marketing efforts and 80% of online marketing efforts bring 20% of online business. So all you need to find out is what 20% is working best for you.
What you should work on now –
Track the basic metrics weekly. By watching the numbers on a week by week basis, you'll be able to analyze what is working in favor and against.
Focus on the content of your landing pages and CTA, try tweaking them and observe how small things can make a big change.
Maintain content consistency. Content is an asset that gives value over time.
What's not worth doing –
Do not get impatient. Remember it's an optimization process where you are focusing on the right intersection of your target market and content. It may take time to grab attention and achieve perfection.
Do not try advertising before you have optimized. Pre-optimization advertising is just a waste of money.
Conclusion –
With a rise in new technologies and internet usage, marketing on an internet platform is a must. The key to successful B2B marketing is creating valuable content that targets the right audience. One does not have to spend a fortune on digital marketing to see a high ROI. The overall beauty of digital marketing lies in constant optimization.
Once you have ticked off the above 10 steps, you will be operating a great, best-practice digital marketing strategy.
Connect us, If you are looking for a quick growth consultation for your B2B Digital Marketing strategy