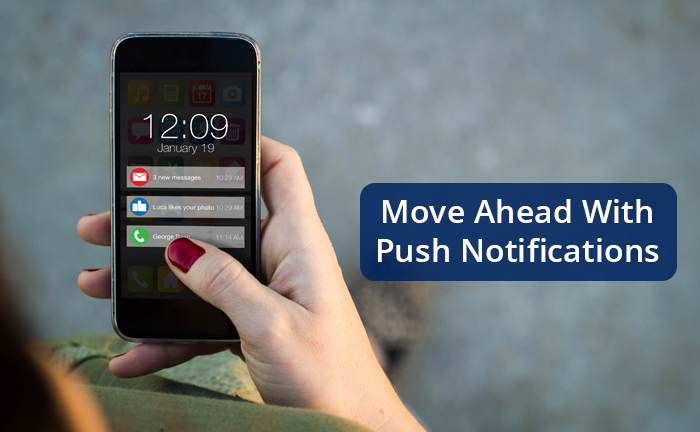 Want to increase your brand recall by up to 10x times? Push notifications can be a powerful tool to increase the number of people who hear from brands and make a decision to visit your app or homepage. 
Of course, not every push notification is successful. Some seem to miss the mark. But those that do hit the bullseye are known to get users to open the app 83% more.
What are push notifications?
Notifications are messages that you directly receive on your mobile phone or computer screen. These messages are not sent to your inbox. They just pop on your screen and interest you in clicking on them to visit a webpage or app that they were sent from. 
It's a fact that 48% of people keep push notifications on their screens. So notifications are a powerful tool for growing orders or scaling a business by directing and interacting with customers. 
• Get people to opt-in in a rush
Your push notifications are pretty much useless if no one has opted for them. That's why it's so important to do so in a hurry. A successful way to opt-in is to invite users to sign up for on the home page pop-up or when they leave a website or app. 
• Keep notifications actionable
Online marketing Content has always been actionable. We don't want users to read your website and not know what to do next. The same goes for push notifications. They need clear and concise push notifications. 
• Personalize according to customer type 
Different customers have different needs. Knowing your target audience is imperative. Different customers think differently. They speak different languages. It's important for the writer of the push notification to understand this and be relatable to the audience. 
• Keep your CTAs crisp and clear as day 
Push notifications without a CTA rarely go anywhere. Use CTAs like shop now, join now, or get started. Push notifications should be tested regularly to see which ones work best. Use a CTA that is actionable. CTAs are a good way to engage your customers. 
• Time your push notifications
Push notifications would be timed according to the product that is being sold, and when it is most relevant to contact customers. For example, it wouldn't make sense to sell jackets in the summer season. Push notifications should feel organic to the customer. As another example, if you're a food company, you'll probably get more orders if you send a push notification around lunchtime. Timing is key.
• Get a good copywriter 
Who better to write your push notification? A good writer will give you the original flavor your brand needs. While you can manually send push notifications, the process can be automated too. A marketing agency can generate superb copy for notifications that can be shared with you for your approval.
• Create urgency 
The technique of urgency has been used by marketers for a very long time. Urgency can be increased by saying things like 'limited period offer', 'just a few days to go', 'buy now and save', or anything else along those lines.  
• Use geolocation 
Geolocation is a powerful tool to scale your business in a certain location. In this technique, notifications are sent to a number only when it enters a geographical locale. This location could be close to your business, or a totally new address that you wish to update your presence in. 
• Talk about updates 
Everyone wants to know the latest news. Updates can be used to get users to check in to your app or website. When sending a notification for updates be clear about what you're announcing. The update should lead to an actual advancement in your product. Making empty promises is known to decimate the loyalty of a business. 
• Measure all your results
Push notifications produce a lot of data like, how many people opened the app or how many unique opens you have had. Measuring the results of notification tells you what worked and what hasn't. It's also the best way to track your ROI  and the growth your business has had from push notifications. 
Let me know if you want any further information on this, happy to help.
Take care!