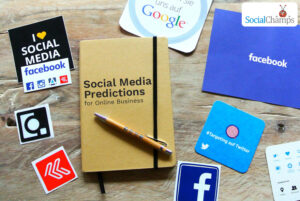 Just imagine a world without Social Media, just a couple of years back it didn't even exist and today it has become a giant Marketing platform for many businesses because of its wide range of users and how they are addicted to social media.
Now brands have got a suite of powerful channels for engagement and elaboration of their products and services. And everyone is glued to facebook, snapchat, and Instagram, brands have got smarter and smarter at targeting content and spreading brand awareness. But what's next?
This blog will help you get the best start in planning your Social Media Marketing strategies for the future ahead.
Advocacy Marketing: Move over Influencers, 2018 is going to be a year for driving reach and viva-voce at scale via brand champions like staff and customers. Advocacy marketing puts additional stress on obtaining existing customers to talk regarding the company and its products as over 80% of people research online before shopping for, and having people publicly advocating for the product gives the researchers something to search out and study!
Appealing Media: We always knew this one was coming back. The increase in appealing and rich media formats can enable seamless social shopping experiences across earned, owned and paid channels. In 2018, you will likely see a seamless focus in social on streamlining the consumer journey and bigger push to fuse e-commerce and social methods.
Voice Search: Voice is the future, it's the right time to optimize your content for voice searchability. As Google's Alexia and Apple's Siri has experienced a huge success, voice-led search behavior will see a definite success. The way we communicate right now is going to be changed due to this voice search technology advancement and so does the process of information on social media and according to Google, 20% of the current searches are already voice-based.
Personification: Brands will look to deliver even additional, super relevant content to audiences. This can probably manifest in the likes of dynamic ads (retargeting users based on their website behavior) and social lead generation.
Augmented Reality: Augmented reality Ads on Social Media make the approach for brands to make immersive engagement and user experiences. Since Snapchat introduced its AR selfie filters, it sounds like everyone is gotten in on the action. And, with the new iPhones giving even additional augmented takes on AR, the technology looks to reach the next level in 2018. Cost remains a key issue for AR to completely commence, but as hardware becomes more and cheaper, we will likely see major pick up!
Chatbots: Get ready for the Chatterbox! Direct interaction with automatic bots will be on the rise to assist brands to build a more tailored experience based on user search/online behavior. According to Google, 57% of world customers have shown interest in Chatbots because of their fast replies. And with the continual advancements of AI, it's safe to mention that almost all brands will shortly be using Chatbots as some way to convey their customer's user community that could lead on to conversions!
Though these trends are not in their full thrust, we at SocialChamps Media Pvt. Ltd., a leading Digital Marketing Company in Pune, India always try to adopt the new trends of marketing before market acquires them. So let's connect to endorse your brand with future-ready marketing trends at SocialChamps Media Pvt. Ltd.