HAPPY BIRTHDAY RAJNI SIR
Today, we are really glad to wish Rajnikanth, the legendary Superstar of Tamil cinema. Born as Shivaji Gaikwad, today He is the richest movie star in India and the second richest (only after Jackie Chan) in Asia. The glory and greatness of Rajni Sir cannot be shared in words.
For years, his extraordinary stunts in the movies have won him appaluse from his fans. There are many temples in Tamil Nadu dedicated to Rajnikanth. 🙂
Let us share some Rajnikanth facts with you:
Once in Chennai, He was teaching his grandson, how to use a gun. His grandson was carrying a toy gun. The child shot a toy bullet and missed the target. The bullet hit Osama in Abbotabad (Pakistan) and Osama died.
Once He went to Mars. That is why there is no life there.
We should not worry about the world ending on 21 December 2012 because He is there to save us.
Once He  acted in the Tamil Remake of "Ghulam" (1998 Bollywood movie). Rajni was playing Aamir Khan's role. In the scene he was running towards the train, train jumped and went to the other track.
Rajni's next movie – A Tamil remake of Titanic. Climax revised! In the end, Rajni swims towards the sea-shore with heroine in one hand, Titanic in the other.
Today Social Champs is starting a campaign to wish Rajni Sir, a very Happy Birthday.
#MyWish4Rajnikanth: A BIRTHDAY CAMPAIGN ON TWITTER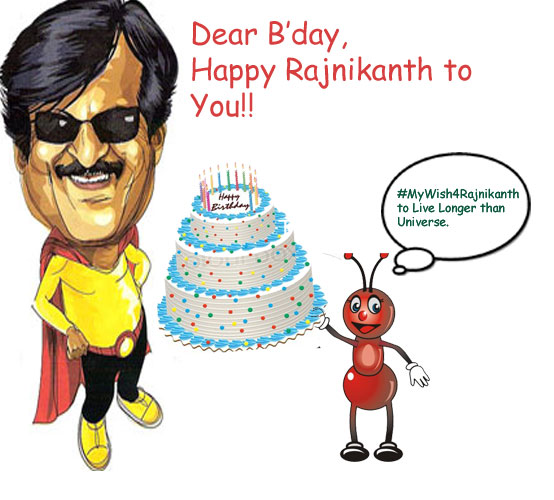 Send your birthday greetings and tell us what do you wish Rajni Sir to do. Send your greetings and wishes with a hash tag #MyWish4Rajnikanth.
Here are few wishes from Social Champs:
I wish Rajnikanth to live longer than Universe

#MyWish4Rajnikanth

I wish Rajnikanth to bring Lokpal in India

#MyWish4Rajnikanth
So what do you wish Rajnikanth to do? Tell us as a tweet with #MyWish4rajniKanth and you may get a chance to be featured on Social Champs blog.
Cheers!!