Social Media Players are again competing on the Mobile Live Video Streaming arena.
What is Live Video Streaming?
We all love to watch 'Live' sports or celebrity events. With social media taking over our maximum time and effort, there are businesses that broadcast live seminars, workshops, discussions, webinars, etc to its global audience.
Your viewing device could be your laptop, desktop, Smartphone, tablets or any digital screen in any place (home, office, restaurant, stadium, theater, etc). The viewers can interact with the host or guest via chat, tweet, newsfeed, voice, webcam, etc.
It is equivalent as a face-to-face conversation with a high quality, no cost multi-person conversation.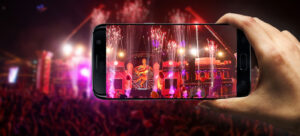 The 'Live Video Streaming' is gearing up and will be of great interest soon. Let's look at some of the favorite market players:
Facebook Live:
Facebook live is the youngest of all video streaming apps. Will it compete with the top rivals of the social media market or will get lost as an add-on only time will tell.
It is currently only available to iOS users, with an Android version coming up soon. At present, though FB live has limited availability to its users but the good thing is, there is no need to download and learn a separate app for it as a status update is a way to access this feature.
Periscope:
Periscope has rich features and is available for both iOS and Android versions. It is all about live streaming, so scheduling live streams or recording videos to be streamed later is not feasible, though it is a great tool for sharing the events right then and there.
Plus, this app has the ability to use both rear and front cameras of the smart-phone. The user just has to double tap on the screen to shift camera views while broadcasting.
Google Hangout:
Google hangout has been the leader in 'Live streaming'. Even though it has added a lot of new features to its app, but it remains more of a chatting/ discussion forum app. Why? Though there is no specific reason to it. The only point could be the way it had been branded as we would hardly have seen Google Hangout being used to watch a live match, though there is no reason why it cannot be used for the same.
So who will be the winner of this 'Live Streaming' race?
As far as features are concerned, Periscope seems to be on the top right now but Google is in the market for years, no one can beat its backend support as far as bandwidth and server readiness is concerned for live video streaming. Facebook Live being new in the block still needs to be observed for its performance.
But any one of three can beat the other two in a matter of just a couple of months.
Having said that, do we really want to choose a winner, there are so many chatting platforms like WhatsApp, hike, Viber, etc, so many social media platforms like facebook, twitter, google+, etc. today so there can be multiple platforms in 'live streaming' too. Let the users decide which works best for them in the coming time.