Where does one start if they want to develop a digital marketing strategy? It is a common challenge since many businesses know and their online marketing agency also states how important digital and mobile channels are nowadays for acquiring and retaining customers. However, they don't have an integrated action plan to grow and interact with their audiences effectively.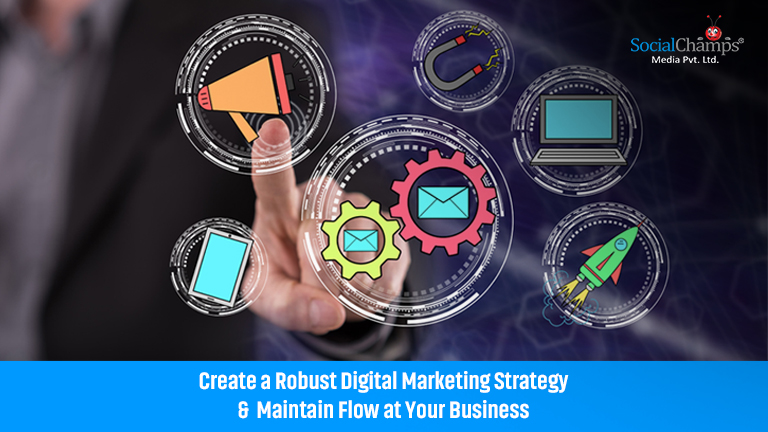 Why Digital Strategy is Important for Maintaining Business Flow?
Businesses without a digital strategy are moving in no direction because they don't have clear strategic goals for what they need to achieve online, in terms of reaching new customers or building relationships with existing ones. Even corporations that do have a strategy in place would be advised to refresh it since the change is constant.
Having a cohesive digital strategy permits you to reach your audience more effectively, using the platforms they mostly use –desktop computers, tablets or mobile phones. To take the last of these, the massive surge in the range of mobile-only internet user has altered the advertising landscape significantly.
Put simply, companies who have a digital marketing strategy in place can have a position over the competition in this regard.
A good digital strategy from an expert digital marketing company can be leveraged in online engagement ways, from email promotions, social media and app management to SEO, blogs and content generators.
According to Business2Community, Only 61% of marketers believe their marketing strategy is working effectively.
What about the rest?
Do they completely lack the digital marketing strategy?
Or
Do they have a digital marketing strategy which is not streamlined?
Here's the thing: if you don't have a plan in place, how are you able to expect to grow and innovate, to measure substantive results and to learn from past mistakes?
It's time to stop panicking about next year or next month and begin crafting a plan that may pack a strong punch.
We've selected the 5 most vital steps that you, the decision maker should take to ensure that your digital marketing efforts produce a true impact on your bottom line.
1. Understand what you want & Set the objectiv
Fix Your Mission
Define your business' overall mission/objective initially – your digital marketing mission should match into your grand arrange.
Answer this question: what's the overriding objective you want your digital marketing efforts to achieve (for example do you want to position your company as the go-to online provider for digital marketing services in India)? This can be your mission.
Set Your KPIs
Get specific with your KPIs by distinguishing the figures you will be held in command of achieving.
Get realistic with your KPIs by analyzing your previous digital marketing efforts first – this can make sure that you aim for a positive increase on your current results and can also avoid setting your expectations too high.
Identify a way to help you measure every of your KPIs – for example, will you use Google Analytics to measure your conversions, your individual social media analytics to trace engagement or a tool like BuzzSumo to assess the success of your content marketing?
Before you start planning your KPIs, find out which metrics matter most to your team.
2. Get the flashback & Learn from Your Mistakes
Don't go with the planning in the dark. Analyzing your digital marketing strategy's past success and failures will definitely help focus you on setting the simplest KPIs for your business. You, therefore, might need to finish the 1st and 2nd step together.
Choose a period you'd like to analyze (it's best to set this time period as the same length of time you propose for your new marketing strategy) – as an example, choose whether you're planning to analyze the previous year, quarter or month.
3. Remember Who You Are Talking to & Speak Their Languag
Don't let the planning disturb the way you are trying to reach your target audience. You already know who your audience is (at least we hope you do) however, typically, they are the initial steps which a digital marketer can miss while setting KPIs, Budget and channelizing the voice. You're not aiming to make this error – not now.
Instead, you're aiming to put your audience at the heart of your digital marketing strategy, cater to their emotional desires and satisfy their deepest needs. How? By creating well fleshed out and well thought out personas off course.
4. Know Your Means & Stick to Your Budget
Three things are necessary for distinguishing your means: your budget, your digital channels and your team (or people). It's necessary to take stock of all of your resources before picking what else you might need for the next period.
For example, now is the proper time for creating an audit of your existing digital channels and to decide whether you're about to outsource specific sections of your digital marketing and whether you need to line budget aside for a new hire or two.
5. Make the Plan but Don't Stick to It
'Create a plan but not continue it? But, But, what do you mean?' Before the panic shakes the digital marketer inside you, let me explain…your plan is rarely getting to be perfect from the outset. Not every assumption you create goes to be correct.
And although you've taken all the care to craft a rigorously created plan based on a group of perceptive assumptions and analysis, you continue to predict precisely how your customers can behave. It is, therefore, essential to ceaselessly measure and monitor the performance of your digital marketing strategy and to change components wherever required.
Applying the plan of internet marketing mentioned above to channelize your marketing campaigns can obviously assist you to reap nice profits on your investments.
Knowing best marketing Automation, Email Marketing, Analytics, and CRO Tools can aid you to channelize your internet marketing campaigns in additional result-oriented fashion.Digital marketing will elevate your business growth if used optimally.