Brand Name:
Chatkazz (Indian restaurant based on Australia)
Idea:
Cricket is a religion for Indians, leveraging ICC World Cup 2015 we planned the Foodie World Cup. A contest between the food items which involved users to vote and make their favorite dish a winner.
Objective:
Introduce new menu items to the users
Increase engagement
Execution:
We launched the Facebook campaign inviting users to vote for their favorite dish.
The match schedule was created.
The participant had to vote for their favorite team in "Foodie World Cup".
Choose their favorite team to make them win. The team who gets maximum votes will go for the next round.
Winning dishes of these matches moved further to semi-finals and then finals.
The participant with maximum right guesses wins.
7 matches, 4 winners.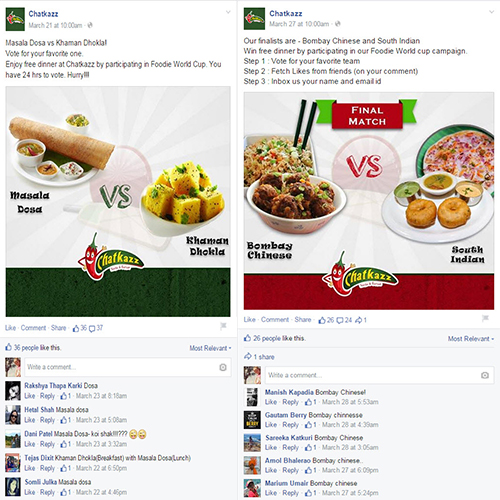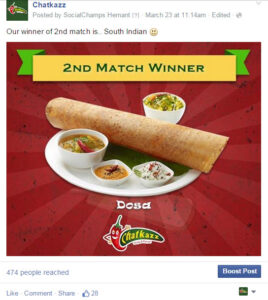 Results:
The contest was well – received as food lovers voted for their favorite food and engage with Chatkazz brand. The campaign was conducted for 10 days.
Total Post Reach: 17691
Impressions: 30918
Total Interactions on the page (including likes, shares, comments, and impressions): 732
Share your views about this campaign in the comment box below