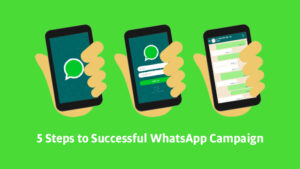 What decides your win in the war?  Not your performance, neither how well you did with your team but the strategy you made intent before you go into the war field. Likewise, you will know how people will respond to your campaign at the time when you are planning strategies for your campaign.
There are so many Social Media platforms available and according to the need of the business, one should decide which platform to use and which platform will be helpful for them as per the targeting audience of the business. And of course, different kinds of people are available on these different platforms of Social Media, so choosing the right platform for marketing is also an essential issue that contributes to the success of the campaigns and ultimately the success of the business.  
The most important thing while planning a campaign is how much it is affecting people on an emotional level and at the same time, how practical is that sounding.
 Why to choose the WhatsApp?
Talking in numerical language,
  WhatsApp has used in 109 countries across the world, this itself talks about the widening scope of reach all over the globe.

   70% of the WhatsApp users use it on a daily basis.

   100 million voice calls and 55 million Video calls are made over WhatsApp.

   175 million people use the Status feature of WhatsApp on a daily basis.

   53 different languages are application is available in.
 (Source Website: https://postcron.com/en/blog/whatsapp-marketing/ )
Along with this, there are more points to be considered for why to use WhatsApp among other social media platforms, let me explain a little more.
User-Friendliness: It is the most user-friendly platform. Every age grouped people are found on the WhatsApp from the grandparents to school going students. This allows the wide range of age groups to target for whatever campaign you design.

 Good User count: The number of people using WhatsApp is bigger than the people using other platforms. There are almost 1.2 billion people in the world of different age groups are using WhatsApp as the normal messaging platform, on a daily basis.

Personal Touch: Messaging using WhatsApp gives a kind of personal touch to the message. WhatsApp gives privacy and is the only feature of WhatsApp is messaging, and hence loved by people.

Interactive: The WhatsApp feels an interactive platform. As you message a person you can if it's got sent, or read, or even if it is delivered or not. The small features like replying to some particular message and like these make the WhatsApp an interactive platform. Although it gets count under the social media category, it maintains privacy.

Convenient to User: The UI of WhatsApp is super easy for users and nothing complicated is there to not to understand. So WhatsApp is considered as convenient for users due to easy UI.
Now that you know why most of the people consider marketing over WhatsApp along with other social media platforms is, now we can discuss what are the 5 utmost important steps that need to follow while planning for the WhatsApp Marketing Campaign.
So without ado, let's dive into it.
What is WhatsApp Marketing?
Now that you know why to use WhatsApp for the marketing purpose, one more thing is needed to be understood is what WhatsApp marketing is and how it works?
WhatsApp marketing is like any other social media marketing. It's just that the appearance of your content will be different from other social media marketing content.  Also, the statics tells you about how voluminous WhatsApp Marketing could go. Since so many people are available on this platform, why to not use this for the business? And with the little twist according to the media platform, we can change the strategy.
This brings us to the second point of the topic:
Making Strategies for the Campaign.
There are already so many WhatsApp campaign had happened and some of them were very successful. So studying those campaigns right from the strategy used, the execution and the result came out of it, the response from the people is also needed to be studied in accord with to develop the new strategy and expectations from it.
Therefore studying successful campaigns, the new idea could be developed by inspiring some of the old ones. And referring strategies will help you improve the new plan.
Available ways in which the WhatsApp can be used for Marketing purposes.
So for this, all features of WhatsApp should be well discovered and better understood to make use of it to the fullest.
WhatsApp offers the three versions of WhatsApp those are for three different OS, i.e. for Android, Windows and for i-OS.
The ways to reach people on WhatsApp is One-to-one chat: Where you can talk to people whose number is saved in your contact list.
Second is the Broadcast list: in which you can add people from your contact list and send a message which will g to people who are added in that broadcast list.  Again you will be reachable to the people from your contact list.
The third way is WhatsApp groups: now the WhatsApp group can have number of admin and they can add people from their contact list, which might be from your contact list.
What is your Strategy?
You have some specific paths to follow user-friendly which are tested and proven. What you can do is be creative about it with, as mentioned earlier, some twists and Desi Tadka, it will be your original strategy ready.
Mentioning some below:
To inspire new uses of the product, Offer One-to-One help

Offer great value with interactive entertainment and engagement
Make discrete advice and services to high- potential customers
Providing simple and clear instruction, encourage user opt-in
Always offer relevant content for free.
Know the Best Digital marketing tool or a firm or agency that can help you further.
The marketing tools like WhatsApp Bulk Sender, Bulk WhatsApp Sender, WAPanel, BulkWhatsAppMarketing.com, and WhatsAppChannel.com are used for the marketing campaigns of WhatsApp.
Other than this any experienced Advertising and Marketing firm will help to manage the reach to the campaign and ultimately the business.
Now let's go through some successful WhatsApp Campaigns thoroughly and understand all HOWs and WHYs behind the success.  
Absolut Vodka:
So to launch 'Absolut Unique', a limited collection from the brand 'Absolut Vodka', an exclusive party was arranged back in 2013, where only two invites were available from the general public.
How Did It work?
To get the hands-on the invites, the customers need to interact with a virtual doorman, called 'Sven' from designed WhatsApp number.
And the trick was to be creative and innovative with the 'why do you deserve the tickets to party?' to Sven and convince to get you in. The answers were not only creative but got as funny as it could be. And viewers sent very comedy videos and hilarious voice notes.
This is what the response looked like: Over 600 users interact with Sven in 3 days of the campaign. 1000 of images, videos, and audio messages came to convince Sven.
 This examples list won't be over without mentioning the Coke
Share a Coke:
(Source image From https://blog.ongar.im/5-whatsapp-marketing-campaigns/ )
'Can you share a Coke on WhatsApp?' was the basic thing.
Using the custom robot built on API created could receive the name via WhatsApp and it would send you a virtual coke bottle that already has the customized name on it. Although this was on just an experimental basis, over 7000 bottles were created within 1000 people, in 2 days.
Eventually, the project needed to be shut down but only hypothetically, if it could have run officially the endorsement it could have got in real.  
To name a few more WhatsApp campaigns,
Heineken:
Persil:
The Liquor Ticker:
So to Conclude what exactly made these campaigns successful to this extent?
Let the campaign be interactive and engaging.

Encourage user opt-in.

Provide Simple and Clear instructions.

Be as much Creative as you can.
 And if you run any WhatsApp campaign getting inspired after reading this, do let us know in the comment box below. Don't even hesitate to reach us out at mail.
Innovate and go creative with your campaign.