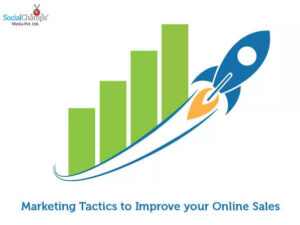 5 Online Marketing tactics to Improve your Sales
Today the nearly all the businesses have gone digital. Social media marketing is a crucial and result-oriented strategy to make any business fruitful. Social media profile of the company is its primary way to reach to the target audience. Social media has changed the business world significantly and positively. But you have to be updated and imaginative to keep yourself on a higher level in the competition of social marketers because of its persistently changing methodology. There are lots of benefits of social media marketing; you just need to maintain the consistency in your social media activities since trends evolve very rapidly that if you don't know or haven't posted what is trending today, you cannot stand out in the crowd. What is in trend today might go out of fashion tomorrow. So take your sleeves up to bring out all the creativity.
Talking about the facts, nearly 2 million businesses use Facebook for advertising (http://dsim.in/blog/2017/04/21/14-awesome-social-media-facts-statistics-2017/). So it's a big competition out there. You need to have an appearance on all other social media platforms such as Instagram, Twitter, YouTube, Pinterest order to stand out in the competition and to expand the reach as well. Again the facts say
Pinterest drives 25% of all retail website referral traffic
Instagram earns $595 million in mobile ad revenue per year, a rapidly increasing number.
10K YouTube videos have generated more than 1 billion views.
Here are top 5 Social media marketing strategies that you need to have in your toolkit for the successful run
1.  Reaching Out(Advertising)
While around each social-networking platform currently has its own absolutely integrated advertising system, Facebook still sways 's-ultimate in terms of preferences, insights, and audience. As a business, undoubtedly Facebook is that the ideal place to begin. However sadly, simply because Facebook may be a nice platform for advertising doesn't mean all brands use it effectively. You may find many people, wasting cash and throwing resources down the drain, as a result of they need no strategy or don't perceive the way to use it. You don't need to go to any such fancy tactics. All it takes to succeed may be very little information on how Facebook advertising works and some knowledge on effective and result oriented techniques
Facebook Ads Campaigns are easy to manage, once you get the basic knowledge. Here are some tips on how to use Facebook Ads:
Audience targeting: Make sure that every time when you create an ad; create a unique set of audience for it. Product specific audience makes it easy to view that ad to the exact audience. You can create two different ads and deliver them to two completely unique audiences and measure the performance, which will help you to plan your future ads. This opens a way for better targeting.
Landing Pages: Connect your ads with the landing pages. This will take your leads to your landing page first, which makes it easy for them to navigate on the website properly.
Use attractive images: Be creative while selecting images for ads. The images should be able to grab the attention of users easily. Try to use self-explanatory pictures.
Bid strategy and budget: From your overall social marketing budget, establish the amount that you want to spend on paid campaigns. Fortunately, Facebook makes this easy by allowing you to use what's known as Optimized CPM. Using this tool, you're basically giving Facebook the authorization to bid for ad space established on the constraints and targets you provide.
2.  Reach out to them again – until they buy 😉
People may just visit your page and because of some other priorities couldn't complete the process of buying the product or service.  With the help of insights application, it is easy to get the data of such visitors. A smarter entrepreneur will try to get back to such potential customers, by making the right use of the information.  To get your customers back you need to perform some tasks skillfully, here are some tips on retargeting ads.
With ad retargeting you have a 70 percent chance of finalizing a "lost" sale; that is why 46% of search engine marketing experts believe retargeting is the most underused online marketing technology today. Follow these tips while performing re-targeting for better results:
A/B Testing: A/B testing is also known as Split testing which allows you compare two types of data and let's choose one which gives better results that are the more conversion rate. A/B testing is a great way to figure out the best online marketing and promotion strategies for your company.  You get the better idea of the market situation and consumer behavior when you implement A/B testing. Well-structured A/B testing can bring a big difference in the effectiveness of your marketing plans.
Determine the frequency: While frequency limits target to control the number of impressions a visitor will experience throughout the day, week, or month, campaign duration emphases precisely on the lifespan of the cookie. When you set a duration for your retargeting campaign you're fundamentally generating a signal to destroy the cookie after that stated span of time. Means, from here after, visitors will no longer be served up ads.
Categorize the customers: With the help of the data based on insights, categorize the customers according to age, gender, interests and other factors such as their activities on a website; Much like lead scoring, visitors can be grouped into different levels of sales willingness according to the explicit pages they have navigated on.
3.  Reach 'em Smartly
This is the pivotal factor. You cannot ignore it under any situation.  All other factors depend on the quality of the content. Unless it makes people read it till the end, it is of no use.  You can include infographics as well as creative visuals to make your content more interesting. Relevant content will help to attract more people. Content sure be precise and grammatically correct. It should be able to convey your message properly. When you share anything on social media, it gets spread rapidly and reaches out to millions of people within minutes. Facebook, LinkedIn, Twitter has a huge amount of content shared by billions of people including politicians, entrepreneurs, professionals, etc.
Here are some tips for successful content marketing:
Use your content to gradually lead your clients through your buying cycle. Don't treat it like a speedboat, full-throttle through to conversion
Never miss an opportunity to leverage email in your content marketing.90% of businesses state that email is directly knotted to their major profits.
For more views, you can share your own content on different social media platforms by using the social sharing buttons next to your content. You can make use of a plugin to make this activity simpler.
Follow a well-planned strategy for promoting the content. Create a checklist for each post that includes all of the social media channels and applications you can use to share your content.
Keep an eye on your analytics so that you can determine if the most popular topics and content types that are engaging more traffic on your site. Identify what is trending and what is working and cut the dead weight from your strategy.
4.  Automation(Chat Bots, CRM's)
You can use chatbots in your company Facebook page so that people can contact you when they are online and scrolling through their wall. This makes your page communicative and chatbots can answer queries at any times so it also makes the page flexible in terms of time.
Chatbots allows you to be very responsive to your visitors. It is actually a robot that acts as a customer representative. You can add chatbots to your social media page or account which will chat with the visitors if they have any queries about your product or service. It will answer all the questions asked by the customers. It is useful in a lot of other things. They can provide customers content with visuals and links. They can reduce some efforts of the sales team by doing small tasks such as scheduling time of delivery of the products. They can be used to send entreating things to the customers such as games, fun facts, videos, etc.
AI: Artificial Intelligence is the way to communicate with your clients. You don't have to be online 24 hours to answer your customer's messages. Chatbots are the robots that chat online with the people to answer their questions regarding your products or services. Chat bots are capable of answering different queries asked by the customers. Chatbots act as customer representatives and maintain customer relationships. Chatbots cannot replace direct salesperson and customer relationship but can help you in some tasks:
Let's assume that it's a real estate agency's chatbot, and then following things can be considered:
Give the details of property from a huge database of information: "I am looking for a 2bhk flat with terrace"
Answers usual real estate questions: "What are the plans for loans?
Ask questions to generate a lead profile: "Do you want a home on the ground floor?"
Answer company questions: "Where is your office?"
Integrate with social media chatbots: "I want a house with the interior that looks like SRK's home"
5.  Engage & Entertain
You have reached to your customers and probably tried building a recall with a remarketing approach. But at times your sales cycles might be lengthier or decision-making for consumers is complex. Hence you need to ensure that you constantly engage your audience for sales or repeat sales. It can be done by different techniques like contests, quizzes, etc.
While contests and sweepstakes have been around for a long time, they have taken on a new approach to the progress of social media. Contests are definitely not the key for all the marketing tactics; however they should be there in the strategic planning of every social media professional for the very simple reason,
Even if you are starting with 100 or 100,000 likes on your Facebook Page, contests can give the best way to upturn that number. An elementary enter-to-win sweepstake with a lower barrier to entry often delivers the best choice for those just opening out with social media contests or for those with an initial little fan-following
Conclusion:
Executing these strategies will certainly help you to be in the list of dynamic social media professionals but these are not the only things you should concentrate on. To make your page or account well-designed use high-quality images and well-written as well as grammatically correct content. Include a call to action button to your page and remember to ask your website visitors and blog readers to like you on Facebook and get linked on other social Media by providing links.
To get the significant website traffic you need to be active on all the social media platforms and strategies strong inbound techniques and mingle them with some older hacks. Based on your company size and type of business you can identify the techniques that can be effective. Being digitally active and updated is the key to drive more traffic.
Check that you are just post something and then disappear for a long span. If you want persistent engagement, design your strategy according to social media standard timings. Retain your target audience engaged with your posts. Try to make your posts dissimilar from other's to get additional Likes, shares, and comments. Don't just post your articles but read other's articles too. Participate in discussions with your target audience. Take efforts to examine the market situation and consumer behavior through insights applications. Always keep a track of trending topics and use that information in your posts.
Share your social media marketing experience with us below in comments.
[message type="custom" width="100%" start_color="#F9F7F7″ end_color="#F9F7F7″ border="#494949″ color="#494949″]Looking for a Digital Growth Consultation – [flat_button text="Lets Connect" title="Contact Us" url="https://socialchamps.com/services/" padding="10px 20px" bg_color="transparent" border_color="#FF5C00″ border_width="1px" text_color="#A9A9A9″ text_size="15px" align="right" target="_self"] [/message]