With leading social platforms like Facebook, Twitter, Instagram, LinkedIn and Pinterest in place, it might seem inappropriate for any brand to enter into any other social platform for their campaigns and audience reach. However, Snapchat is putting its advertising game in place to challenge the big five.
The Internet Trend Report of 2016 by Mary Meeker shows that Snapchat is getting pretty close to platforms like Instagram, Facebook, and Pinterest in terms of sharing images and videos in the US.
In India, it is pretty popular in the age group 15-30. As per the digital experts, the number of users using Snapchat in India is increasing at a horse's speed being close to around 4 million.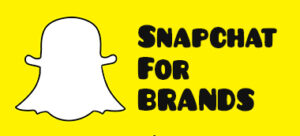 Why Snapchat user-base is increasing at a rapid pace?
Snapchat's user-base is increasing at a rapid pace in India as well as other countries.  The main reason could be an increasing tendency of users to look out for more visual mediums. Ever since Snapchat introduced video sharing, it has become one of the popular social media platforms for sharing video content.
How will Marketers/advertisers benefit from Snapchat in India?
Today Marketers, Advertisers, and Brand managers are constantly looking out for new mediums and ways to connect with their target audience. No doubt, digital media has introduced a variety of communication channels to help reach the customer base.
Digital media needs relevant, informative and catchy digital content to gain a viewer's attention and reaction. Marketers today are doing constant experimentation to create exclusivity with their content being meaningful, to the point, creative, unique and good to watch.
Snapchat, a growing mobile app, lets its users share visual content (photos/videos) that automatically disappears after a few seconds. But will brands be able to overcome these creative challenges and get the advantage of this disappearing content?
The main concern for brands is that viewers get only one chance to view a Snap. But, then there are times when these Snaps can be replayed during a day, making it useful for brands.
Advantages of entering the Snapchat market:
Content is visual and thus attention-grabbing
Space is not an issue
It allows drawing, writing on content
Apart from that, one major limitation of Snapchat is the Metrics. Yeah! It offers zero metric tracking due to the lack of in-app metrics. This may devoid the marketers from tracking the credibility of their campaign.
But, brands today who are looking forward to targeting the younger audience are snapping to glory!
Few Strategies to implement using Snapchat:
Showcase your products: One can take advantage of the Snap story and introduce/showcase your new products. With the new feature of adding people on snapchat, all you have to do is take a picture of the unique QR code of your snapchat account from your customer's snapchat camera and they start following you. Remember, the main audience using the app is in the 18-35 age brackets so speak the right language without seeming desperate and users won't mind engaging with your brand.
Sending Discounts and Promotions: This seems to be a popular marketing form which Indian Brands can leverage as it works best with the behavior of Indian consumer. For any e-commerce brand or a brand with a store presence, this can be a great way to capitalize on the short-lived or changing nature of Snapchat.
Video interactions with the customers: With the rise in video content popularity, this feature can surely cater to short answers/replies/real time support for your customer base. For example, a customer is facing a problem installing an electronic gadget, a video could be a quick way to resolve their query and establish your brand's trust and dedication.
Share candid or behind the scene moments: Snapchat was created in the spirit of connecting with people you like and having fun. Companies can run campaigns showing their followers, things they normally will not see on other social networks. A great example could be showing preparations of Indian festivals related to clothes, restaurants, shopping, jewellery, etc.
Getting Creative: One can use Snapchat for anything and everything like:

Introducing new employee/ team member
Hosting Games/ Contests
Showing Limited edition/festive offers
Share stories by linking a series of videos
Use Snapchart features like draw, type, time, filters, etc to have some fun.
Inviting fans – IPL team Mumbai Indian used Snapchat to bond with their fans: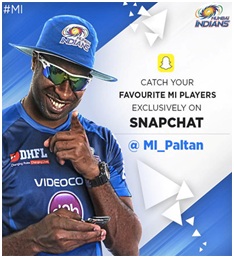 Conclusion:
With a user-base in millions and a valuation of $10 billion, Snapchat like any other social platform is based on relationship building. India being a young nation with an average age of 27 years, it becomes pretty relevant for all brands to adopt this platform as it is an interesting, visually engaging channel for today's audience.
Increasingly, Indian brands are looking at Snapchat as an option to connect with their audience in spite of its limitation.  Though Snapchat is planning to evolve its advertising options with a new ad API and tie-up with ComScore for metrics, one has to always push the limits of creativity. Remember, getting results is not a one-day affair, one has to plan, measure and then work towards pulling up their brand via Snapchat.
Do you think brands can pull off Snapchatting successfully in India? Do share your thoughts.