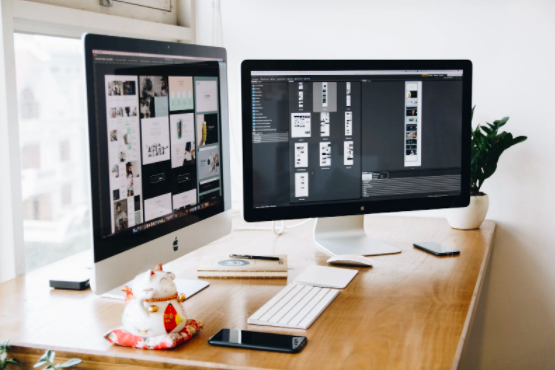 Graphic design is a must for your small business marketing, but hiring someone to do it for you can be expensive. You can also spend a big part of your budget on paid subscriptions to premium services, but you might not need to just yet. Instead, check out these six free tools to help you design your own marketing graphics for free, so you can use them to boost your social media presence and build your following.
1. Canva
If you're looking to create graphics using templates from a variety of social media platforms, look no further than Canva. This great free resource lets you upload a picture and quickly and easily add texts, elements, or filters, and you can choose from templates for social media sites like Instagram or Twitter. You can then quickly download a copy of your graphic to use as you see fit; no royalty necessary. 
2. LogoCreator
A powerful free logo creator, LogoCreator provides you with dozens of templates for logos grouped by industry type. This is very important because most people expect to see some aspects of your logo depending on your business. Within minutes, you can choose a template, customize the colors, text, and other elements as you see fit, then download it to use on all your marketing materials. 
3. Pixabay
Stock photos are handy online, but you'll often find that some sites charge you a fee to be a member or a royalty to use their images; not so with Pixabay, a free site with photos you can choose to use completely royalty-free. You don't even have to attribute them to whoever uploaded them. Just click download, select the size you need, and save it to your device. 
4. iPiccy
If you find yourself editing photos a lot, one good site to have bookmarked on your browser is iPiccy. This software lets you upload a photo, put several into collages, crop or re-size, and apply a variety of other enhancements. When you're done, it's easy to save to your computer as well. iPiccy is an excellent resource for those social media marketers who need some extra muscle for editing their pictures without paying premium prices. 
5. Crello
Another great free resource for applying a template to your photos and graphics is Crello. It will automatically apply the correct size to your pictures according to the optimal sizing for your chosen social media platform, will apply an appropriate color palette, and lets you use a wide variety of shapes, backgrounds, text, and animation. It even lets you embed music or video in your graphics, so your social media post incorporates multiple types of content. 
6. Visme
If you're looking to create infographics, look no further than Visme, the leading free resource for creating beautiful, informative infographics. Visme lets you take that mundane slideshow or wall of text and turn it into an engaging and informational infographic that you can plaster all over your marketing posts. Its easy-to-use, intuitive interface makes it a snap to put together professional infographics on any topic you want. 
Bonus: Gravit Designer
If you work with vector files for use in creating decals, shirt prints, or other promotional materials, you're in luck. Gravit Designer is a free resource for beginner graphic designers with a simple learning curve. After a few hours of using it, you'll be shocked by how easily you can create professional vector images. Not only that, but Gravit Designer lets you create web and app user interfaces as well, so your website is as professional as your social media posts. Try it out today!
Like this read? Do let us know your thoughts in the comment section.