Would you like to spread the LOVE? would you like to do it "Thoda Hat ke" 🙂
Did you say, Yes !!
SocialChamps is spreading the Love this season with a Social Media Campaign – "Valentine Thoda Hatke" – Celebrate this Valentine in Filmi Isshtyle; Thoda Hatke with us.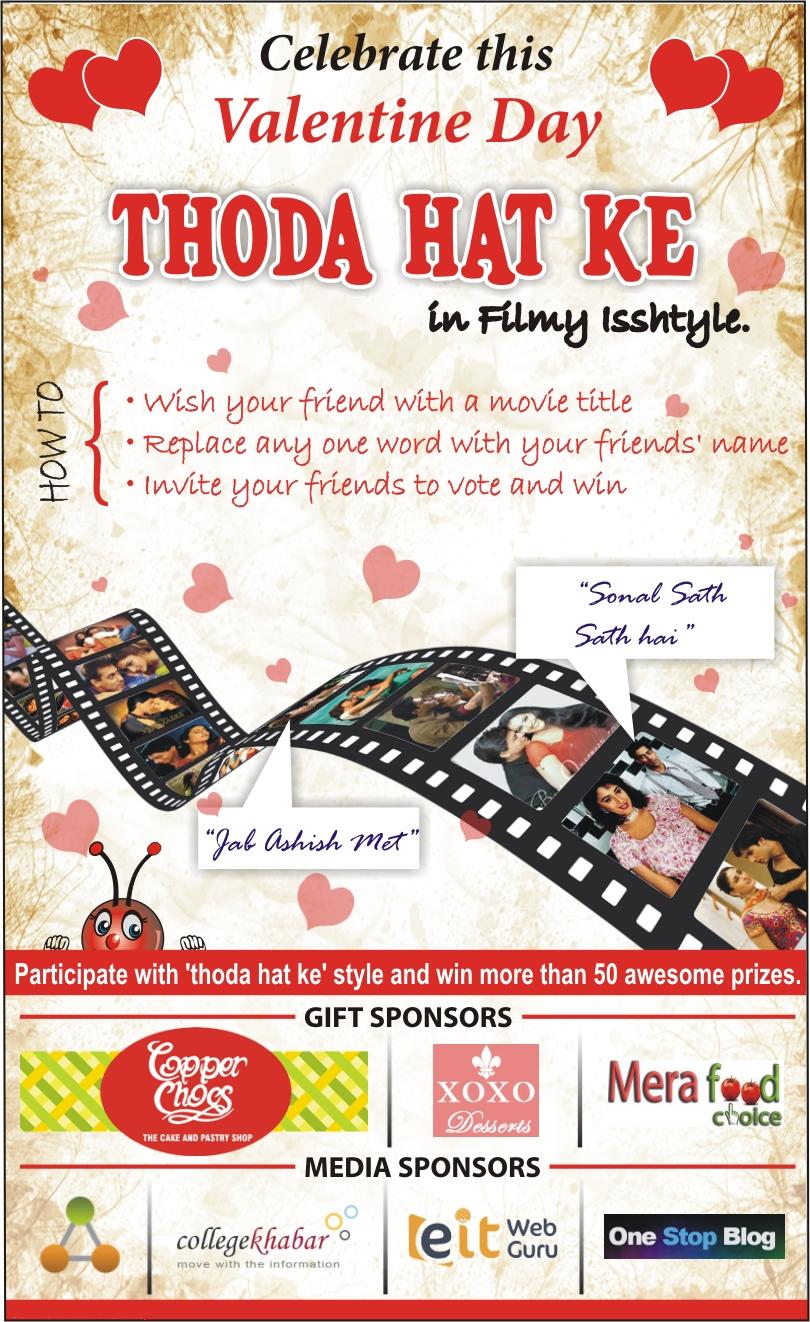 More About Contest
Filmi Valentine Contest is woven around the concept of making the expression of love more trendy, easier and acceptable. 🙂
You can wish your best friend with a "Movie Title" name BUT you would need to change a word with your FREIND's NAME.
For Ex.:   Andaaz Apna Apna  –>  Arpit Apna Apna
Jab We Met  –>  Jab Ankita Met
Isn't is interesting ??  So use your creative brains and express your emotions for your friends.. and win exciting prizes. Thanks to our beloved sponsors as there are more than 50 Prizes to give away.
How to Participate:
The contest will be run on Twitter and Facebook. You can participate on any of the channels as per your interest.
On Twitter:
Write your Expression (Movie Title with Friends Name) and Tweet it with

#FilmiValentine @SocialChamp

You can also @mention (ex. @Arpita) your best friends name.
Ask your friends to ReTweet it to increase your chances of winning.
The most unique, touching, most retweeted expression will win awesome prizes.
There are multiple winners and prizes to give away.
On Facebook:
Visit the SocialChamps Facebook Contest Page.
Like us to participate in the campaign.
Fill the required contact details on the page and write your wishes for your best friend with a Movie Title, But you need to replace one word of it with their best friends name.
For Example;
Jab we met – Jab Ankit Met
The contest is sponsored by multiple companies to give gifts to winners. More than 50 gifts will be given out.
We will appreciate if you can come forward and help us spread the love… Campaign will be starting tomorrow
Prizes and Sponsors
Thanks to our beloved sponsors for offering the amazing gift vouchers to select winners. We would love to speak about them here –
Copper Chocs: With more than 12 outlets in Pune, CopperChocs is Copper Chocs is known for it excellence & exquisiteness. Its all about celebrations and happiness.
XOXO Deserts: XOXO stands for Hugs and Kisses and is named after what the delicious desserts embody – Love, Happiness and Celebration! XOXO Desserts is pleasing the residents of Mumbai and Pune with a delightful collection of delicate, luxurious desserts, cupcakes and cookies.
Mera Food Choice: Mera Food Choice is a one stop shop for travelers to order food of their interest.  They have made tie up with various food providers and outlets so as to make a chain link all over India. Thus it will make easy to get food of choice at the projected/tasked place, be whether via Train, Road or be at office,garden or at home.
Media Sponsors:
Few bloggers and communities have also joined the league and they will be doing the active promotions of the contest with their communities. CollegeKhabar, eItWebGuru, Sitemarks and One Stop Blog are the media sponsors to spread the word.
Apart from that many other bloggers are also sharing and writing about this contest.
Terms & Conditions
SocialChamps (A Social Media Agency is organizing Filmy Valentine Contest, hereinafter referred to as "the Program" for easy reference;
The Program is valid for all States in India;
The Program is valid from 02/12/2013 to 02/16/2012(both days inclusive) meaning thereby that the entries will be accepted from 02/12/2013 till 02/16/2013
The participation in the Program is optional & voluntary and does not guarantee any reward; No purchase of any products of SocialChamps and/or Sponsors' is required. The Program is applicable for limited period only;
The Program is open to all Indian citizens except employees and the family members of SocialChamps, its Associate Companies, its Sponsors and it's Media Partners;
To participate in this Program, the participant is required to log on to 'SocialChamps' Facebook page and upload their entries;
One person can upload multiple entries, however, he will be entitled to get only one prize in case of winning.
In the Program the participants are required to write a Movie Title to wish their best friend and submit it along with their name, email Id and City.
It is the participant's responsibility to ensure that their personal details provided are accurate in order to be able to receive the information/notification about winning from the Company in time. The Company will not be responsible for any loss or delay in delivery of communication due to incomplete/ incorrect address provided by the selected participants, technological failure, or for the fault of third party responsible for such intimation.
The entries uploaded by the participants found to have illegal or offensive content will be disqualified without further reference and the participants shall be solely liable for any consequences arising there from and shall keep Company indemnified in this regard;
The most voted winning entries will win various gift vouchers as offered by our sponsors. The announcement of the winners will be made withing a week of completion of contest by Company. . The decision on the final winner rests on the Company's sole discretion which will be final and binding. (This dispatch of the prize vouchers will be done by Sponsors. Product distribution is solely a responsibility of Sponsors')
The participant must read and abide by all the terms and conditions before taking part in the contest. The participation in the Contest shall imply that participant has read through and agreed to adhere to the terms and conditions and be bound by them and that his/her participation in the contest is at the participant's sole risk and is governed by the terms and conditions herein. Any non-compliance in adhering to the terms and conditions will lead to rejection of the application by SocialChamps.
No correspondence(s) will be entertained under any circumstances of whatsoever nature;
SocialChamps reserves without any liability whatsoever, the right to use the selected winners' movie title based wishes and winner unconditionally gives his / her consent to use the slogan in any way across the world as found suitable to SocialChamps including Public broadcast;
SocialChamps shall not be liable for any loss or damage due to Act of God, Governmental actions, other force majeure circumstances and shall not be liable to pay any amount as compensation or otherwise for any such loss;
All disputes are subject to the exclusive jurisdiction of Courts of Pune alone.
SocialChamps reserves the right to withdraw & / or alter any of the terms & conditions of this event at any time without prior notice;