Facebook is one of the most popular social networking sites, and creating an events page on it can ensure that your events will be publicized and reach a large audience. But sometimes, quality is more important than quantity. Reaching the correct target audience has become more necessary than reaching a larger audience, which may not necessarily be your target. Facebook events are one of the most popular functions in social sites.
In the latest Facebook news, the event creation page now has an interesting and useful feature of creating target-specific event pages.  Page admin can now create Facebook events targeting only a certain demographic population so only people within a specific subset will see the event.  For instance, a store having a sale on women's clothes would get to target only women by using this new targeted event creation. Facebook events would help attract more specific audiences and increase popularity and sales. This new exciting feature would definitely be a boon for businesses, small as well as large. Although this capability is only for Facebook Pages and not users, Facebook events are the much-awaited development in Facebook for businesses.
Targeting has been a significant aspect of marketing which can also affect the success of the business. The new Facebook page targeted events, would prove extremely beneficial to spread awareness only among the required consumers and filter the irrelevant group of audience. Facebook gives advertisers the opportunity to target their ads to very specific groups of peoples.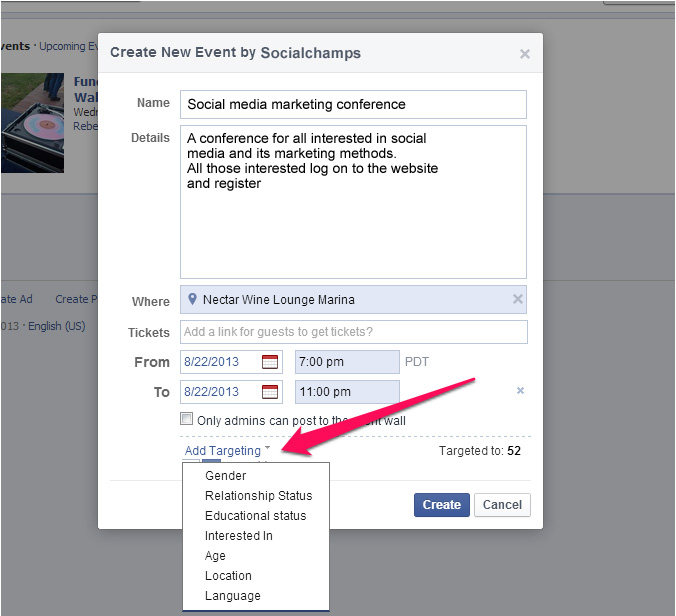 Page admins can target events with these qualifiers:
Gender
Relationship status
Educational status
Interested in
Age
Location
Language
The above qualifiers would prove to be extremely useful to get the attention of a particular section of Facebook users. You can focus your attention to the relevant Facebook population and earn their likes.