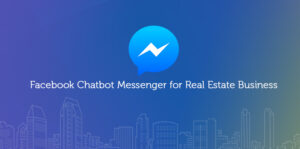 What is ChatBot?
AI: Artificial Intelligence is the way to communicate with your clients. You don't have to be online 24 hours to answer your customer's messages. Chat bots are the robots that chat online with the people to answer their questions regarding your products or services. Chat bots are capable of answering different queries asked by the customers. Chatbots act as customer representatives and maintain customer relationships.
Real Estate ChatBot
Chat bots work well for the real estate industry. People search for new homes and properties after working hours. There should be someone to guide these leads in the right way and provide them with whatever information they want, to keep your company ahead of all the competitors. A real estate chatbot is a fun and innovative way to interact with the people.
Real-estate is the industry where a customer relationship has given the utmost importance. Clients and agents form the bonds for one of the important events of life: Purchasing home. Chat bots cannot replace that relationship but can help you with some tasks:
Give the details of property from a huge database of information: "I am looking for a 2bhk flat with terrace"
Answers usual real estate questions: "What are the plans for loans?
Ask questions to generate a lead profile: "Do you want a home on the ground floor?"
Answer company questions: "Where is your office?"
Integrate with social media chatbots: "I want a house with the interior that looks like SRK's home"
Have a look at how exactly Facebook chat bots messenger works.
As soon as you click on the chat window, a welcoming message will be sent to the lead.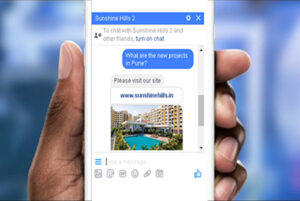 If you ask any question, the bot will reply within seconds answering your question.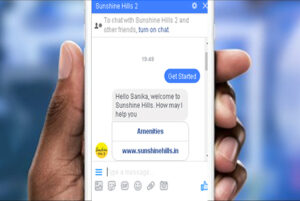 This is how chat bots make it easy for organizations to be communicative with their customers.
People usually spend time on viewing property pictures. If someone is really looking forward to buying a new property and if they come across your Facebook page, chatbots will help you to gather their information so that you can contact them directly. Lead generation through social media has become easier with technology. You can find people who are your potential customers on social media easily.
We have built Facebook chat bot messenger for real-estate which is working interesting and people are interacting it more. With recently opened options for bot messenger's promotions, it can be well propagated.
[message type="custom" width="100%" start_color="#F9F7F7″ end_color="#F9F7F7″ border="#494949″ color="#494949″]Get Free Digital Consultation for Your Real Estate Business – [flat_button text="Lets Connect" title="Contact Us" url="https://socialchamps.com/digital-marketing-services-real-estate-business/" padding="10px 20px" bg_color="transparent" border_color="#FF5C00″ border_width="1px" text_color="#494949″ text_size="15px" align="right" target="_self"] [/message]