With social media sitting firmly in any marketing strategy today, the marketing industry has seen an increase in clever, creative and effective social media campaigns. The successful social media campaigns may vary in size, method, and style but when we dig down the details of most top-rated social media campaigns, they all share some common elements.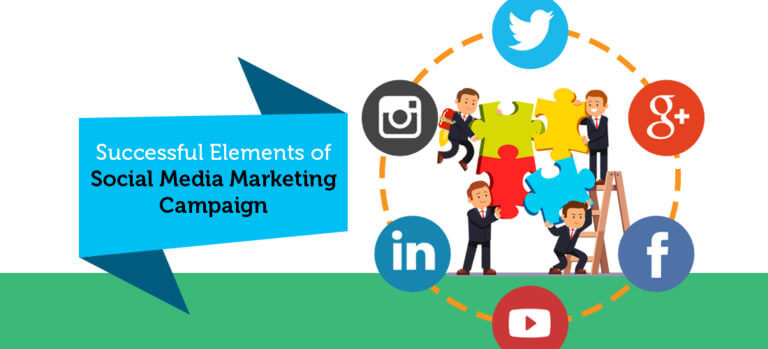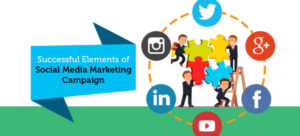 Success in social media is dependent on various factors. A successful social media campaign may not be as easy to identify, plan or execute as every campaign, contest differ as per the business goals but there are basic building blocks which ensure your brand/business gets the most of its social media initiatives.
Are you planning a social media marketing campaign? If yes, keep the following components in mind to achieve the desired results and boost the impact to your bottom line:
1. A Carefully Developed Plan:
At the core of any successful social media marketing campaign is a carefully developed plan. Though the plan should be specific to the campaign it should not conflict with the existing social voice and style of your brand. To develop your plan:
Research: Do a thorough analysis of your followers, your target audience and research recent campaigns in your industry to see which existing trends you can leverage.
Choose the right social media network:  Different social networks exist for different purposes, so choose a network that is the best fit for your goals. Understand where your target audience spends time.
Allocate your Budget and Resources: Allocate a budget for your social media campaign. Include if your campaign requires any paid social efforts or if you plan to rely on organic success. If you need additional resources such as a social media platform, CRM or any automation platform to implement your ideal vision, include the same in your desired scope.
Identify your dream team: After allocating the budget and outlining the overall social media campaign, identify your team and assign clear cut roles to avoid any confusion and overlapping of responsibilities. At the bare minimum, you will require to assign roles for content, design, and promotion.
2. Define clear goals:
Defining clear goals before starting any marketing campaign, makes it easier to measure and analyze your results. You may have multiple goals for your social media campaign, where each goal can be personalized for your business needs. Few common goals that most campaign address:
Increase Brand Awareness: If your business is new and you need to stand out of the crowd in your industry, some part of your campaign should aim to increase brand awareness. If your customers and prospects are unable to recognize your brand, your campaign will have little effect. Incorporate a sharing aspect to your campaign; it is a great way to increase your online influence as well as your brand awareness.

How to measure your brand's social influence?
Benchmark key metrics such as-
Total number of likes,
Total number of followers,
Total brand mentions/ re-tweets,
Influencer brand mentions and
App downloads are driven by social media.

More Website Traffic: More visits to website/blog are an obvious goal of any marketing campaign. More visitors on the website mean more opportunities to share your site/content on social media. Direct users to a landing page on your site to complete their next action. To measure and benchmark key metrics, use Google Analytics or your preferred web analytics platform. Metrics could be:

Total Web visits
Visits are driven by social media,
Time on site and
Overall engagement of social users

Drive Visitor Loyalty: If driving visitor loyalty is one of your goals then aim to increase the amount of time spent on your website and the frequency of return visits. So, design a social media campaign that requires users to visit your website several times to enter/find information. To measure visitor loyalty, benchmark metrics such as:

Pages per session,
Average session duration and
Percent of new sessions to your site

Improve Conversion Rates: If your brand/business is already popular and receives a lot of web visitors, focus on improving your website conversion rates. Align an aspect of your social media campaign with website conversion such as campaigns that require users to sign up to receive the benefit/value being offered, fill out a form, etc. Since people have short attention span so a well-optimized landing page can increase your campaign conversions. Your landing page should include a clear headline, clear information about your offer and a call to action. To measure your social media campaign's conversion rates, track metrics like:

Total site entries,
Total conversions and
Assisted social conversions
3. Cross-Channel Promotion:
It's important to know the ins and outs of your campaign along with the rules and terms of services of the social media network(s) you are using to run it. Knowing the networks' functionalities will ensure you get the most impact from each post. Running a campaign on more than one social media network should be a part of an integrated marketing campaign. There are major two benefits of promoting your social media campaign across additional channels:
Reaching different groups of people at varying times across many marketing channels increases the likelihood of success of your campaign.
People who are not active on social media are informed and those who are active are reminded by communication of the campaign through other channels. The possibility of people engaging/ participating in the campaign increases after being reminded through a different channel. A word of caution: Be careful with your timing and segmentation. You don't want to overwhelm your existing customers with too much at the same time.
4. Analyze:
Every social media campaign should be measurable, from the creatures that were used to the emails or information collected. This is where your plan and clear objectives come in handy. Measure your progress against your initial starting point. Evaluate whether or not you saw a difference in engagement metrics or account metrics specific to your business. A successful social media campaign should affect more than your follower count. There are a number of ways to think about the ROI of your campaign that is not tied to revenue.
Apart from these four base elements, there can be some components that are specific to a campaign such as:
Type of Social Media Campaigns: There are several types of campaigns that you can implement from low effort to high effort for users. If the campaign is skill-based, it is called a contest and if it is chance based then it is referred to as a sweepstake. The higher the effort is usually associated with a higher prize value.
Social Media Campaign Theme: Develop a fun theme around the contest. Brainstorm on current trends. Study the campaigns executed by big brands and gather theme ideas from those. A fun theme can tie your contest directly to what is popular with your target audience thereby creating a favorable impression associated with your brand.
Campaign Prizes: The more prizes you offer, the more people think they have a chance for winning and are more likely to enter, share and try to win. Keep prizes fun, but relevant to your audience and product/service. You may try giving smaller items and give your participants the opportunity to sign up for extra entries for a larger prize. You may also consider bringing in co-sponsors that are trying to reach your target market. They are likely to provide prizes and cross-promote on their channels in return for the inclusion.
Campaign Design Elements: Do not hold back on the design elements of your contest. If the graphics look the second rate, your audience may assume your contest is too. Make sure and put your best foot forward when launching your campaign.
User Experience: Make it easy for fans to enter and share the contest details on their profiles. Do not ask for too much information and 20 steps to enter the contest. Also, determine how long the contest should run but beware not to make it too long. This will help to keep the momentum and interest going.
Campaign Hashtags: Devise short and relevant hashtags and use them with every post, and encourage users to use these while sharing contest details. This will help you in measuring impressions and contest traction during and post-event.
Campaign Rules: Make sure you have thought through what would be a fair way to conduct the contest. Refer to the contest section of the social media platform you are running your contest on to ensure you are following the latest guidelines.
Fun Factor: Pun that fun factor in the contest. Encourage the competitive spirit in the participants by making it more likely for them to win if they get their family and friends on board such as maximum likes/share/retweets etc of their entry.
Advertising Your Campaign: Send an e-blast to your existing customers. Also, reach out to any influencers you think might want to enter your contest. If they like the contest, theme, and prizes, they are more likely to enter, share and promote the same!
Running a campaign is a great way to introduce consumers to your brand in a fun and engaging way. It can be a quick way to extend your social reach, create brand awareness, gain an insight to your target audience, get more followers and convert new fans to customers and achieve your long-term business goals.
But remember, not every campaign will be a success but each will leave you the key takeaways for your next attempt.