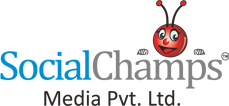 We are a focused digital media Agency based in Pune. We cater to all segments with diversified clientele which includes Domestic and International clients.
We have worked with more than 400 brands from various industry segments, with a wide range starting from Fashion, Apparel, Cosmetics, Food, Restaurants, Real-estate, Media, Education, Entertainment E-learning, Blogs and financial products , and many more.
Trainers:
Gajanan, Founder & Director, SocialChamps, himself is going to take major part of training program. Gajanan has been cited by World Marketing Congress among Top 50 Most influential Digital Marketing Leaders & Top 100 Smartest Digital Marketing Leaders in 2016 & 2017 respectively.
He has been speaking on various national & international forums like World Marketing Congress, National Digital Marketing Summit, WordCamp, World Retail Congress, ASSOCHAM and many more.